Author: Amelia McVeigh | Posted On: 11 Sep 2023
With the cost-of-living crisis and rising energy bills continuing to plague our news feeds, it has become even more important for households to find long term solutions to reduce financial stress. Unfortunately, the truth of the matter is that this issue doesn't seem to be going away anytime soon, with the Fifth Quadrant Consumer Insights Study showing that almost three in four consumers believe it's only going to get worse over the next 12 months.
Utility bills are a big part of this, with Australians paying more and more for their electricity and gas services. This raises the question about why they're not focussing more on energy efficiency, investing in upgrades that can reduce these bills going forward. We know that people can be shortsighted, and if they continue to focus on short term fixes, they will miss the opportunity to reap the benefits in the long-term.
Our August wave explored this further, looking at the key factors informing consumer perceptions around their homes, and where sustainable elements sit within this.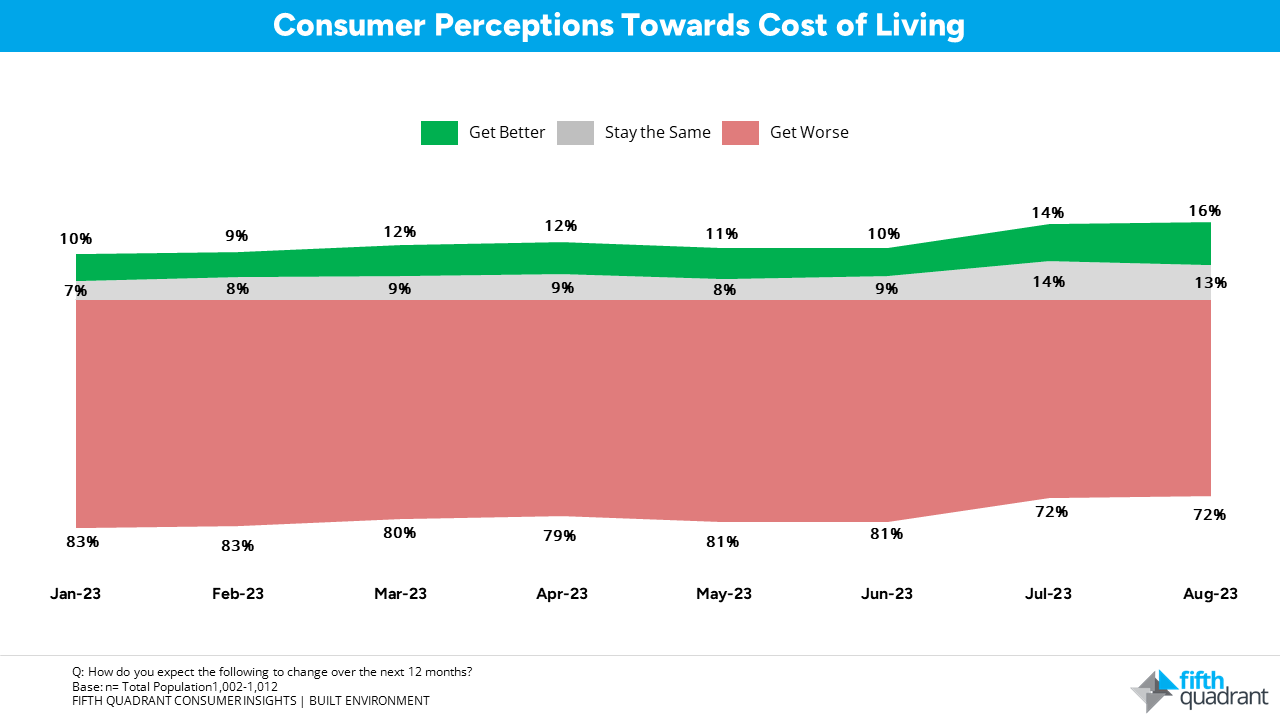 are consumers making a difference where it Counts?
Unsurprisingly, when looking for a new home to buy or rent, consumers are primarily focused on three key areas:
Price (59%)
Build quality (56%)
Condition (50%)
While these aspects are undoubtedly important, it is disappointing to see energy efficiency considerably lower down the list; in fact, even the look and feel of a home (42%), is considered more important to consumers than long-term savings on their energy bills. If consumers are not able to see the benefits of investment in more energy efficiency housing now, they are going to remain behind the 8-ball in the years ahead.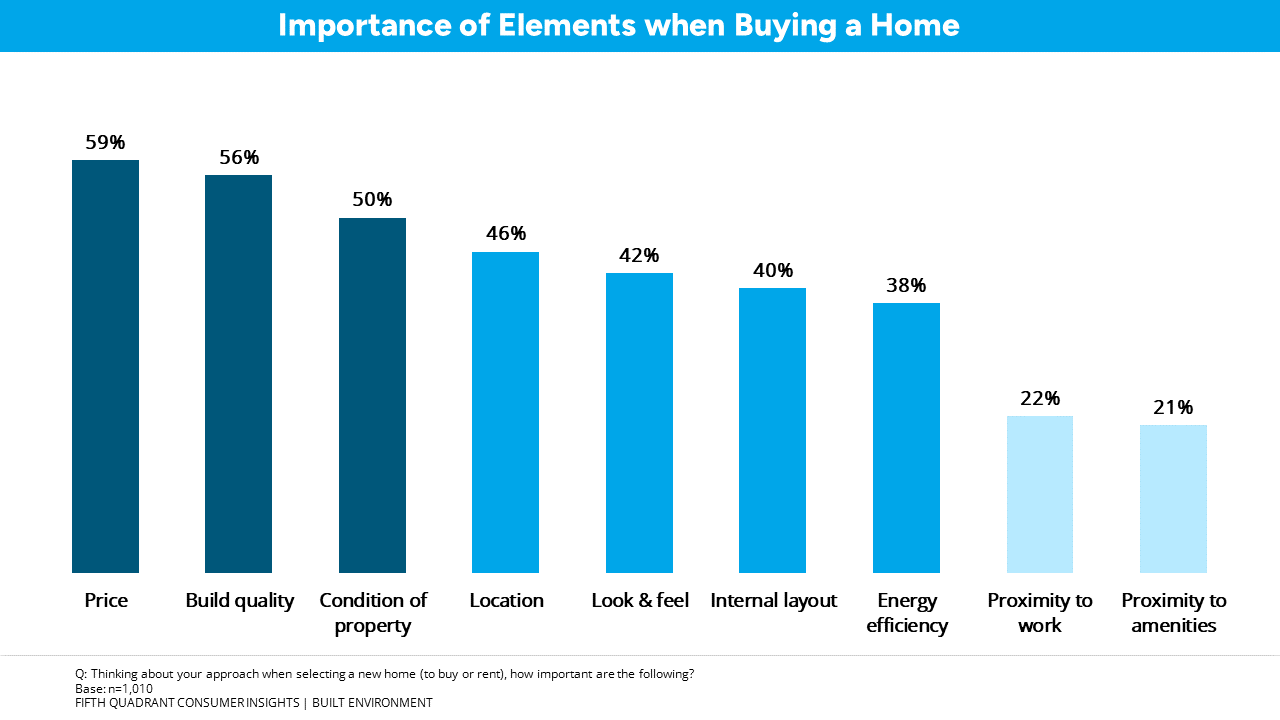 so what does this mean?
Given price is always top of mind, it is hard to convince consumers that it's worth investing more money up front to fund energy efficiency changes within their home. With that said, when you look at the longer-term benefits, it is somewhat surprising that it isn't more top of mind when we are in the middle of an energy inflation crisis, but ultimately, it comes down to their mindsets, and what they value as important.
There is however a fairly substantial group within the community who are much more heavily invested in reducing their carbon footprint. More than one in three consumers can be classed as Carbon Footprint Conscious, with energy efficiency twice as important to them as those outside this category. These consumers clearly see the longer-term benefits. While other factors such as price, build quality, and condition remain important, their decision making hierarchy is fundamentally different.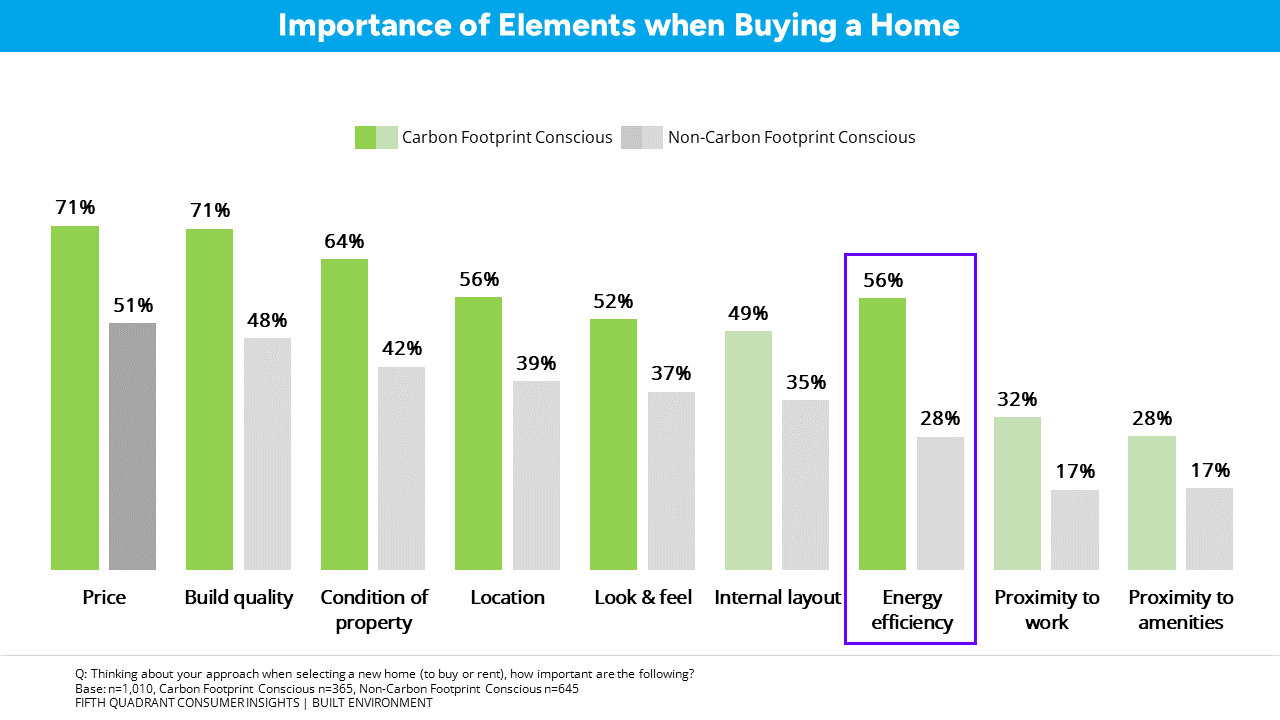 so how can we help the broader community see value in energy efficiency?
We need to get granular.
Despite many consumers not valuing energy-efficiency overall, they almost universally still want sustainable features within their home. Renewable energy is the most appealing, which is no surprise given Australia ranks top in the world for solar PV per capita (according to the International Energy Agency), with Energy and Water Efficient systems just behind.
There is clearly a desire within the Australian community to have access to these features , but it is also evident that price-related elements trump energy efficiency as the driving force behind this.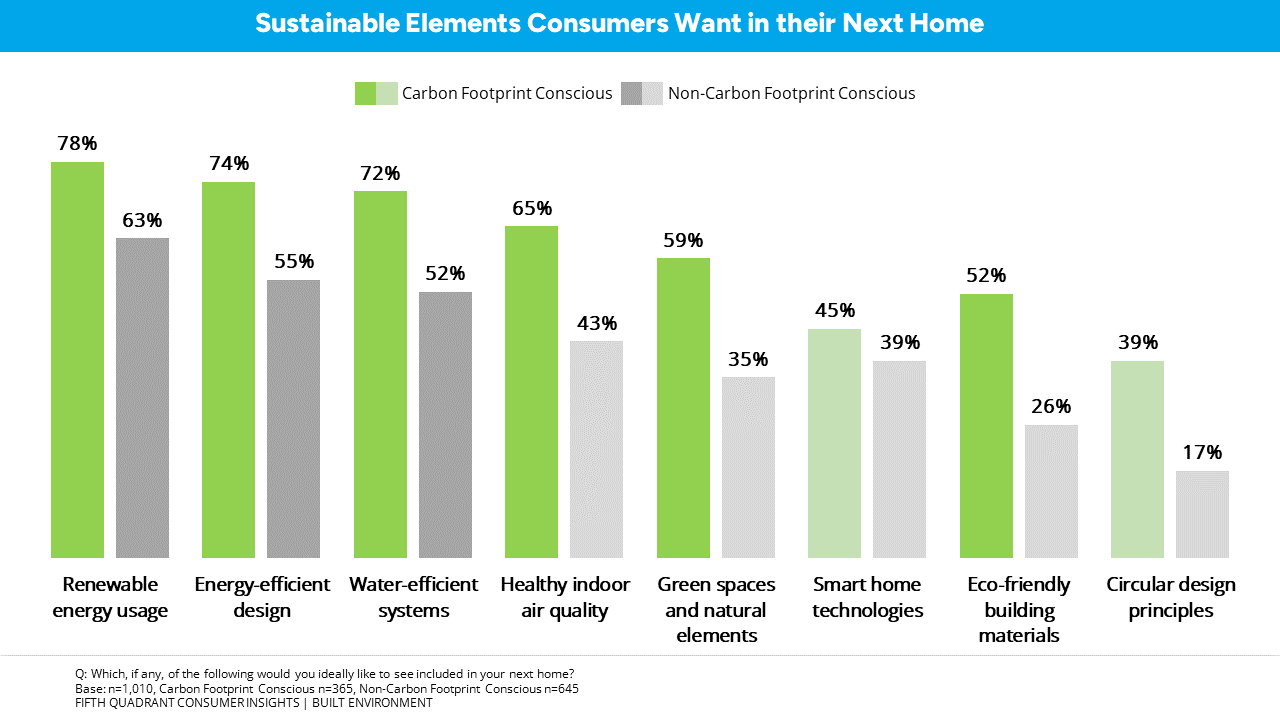 where to next?
As with many things, it comes down to how we tell the story, as sustainability should be an important focus through the rest of this decade (and beyond). We know price is key, so we need to shift the conversation to emphasise how small, lower-cost improvements can have a big impact on utility bills in the short term. For developers, there's clearly a mandate here to include environmentally friendly features within new builds, ensuring that this becomes the default over the medium to longer term.
Fifth Quadrant surveys 1,000 Australians every month as part of our ongoing Consumer Insights Study. Click here if you are interested in finding out more, or have questions you'd like answered.