Author: Brad Ripps | Posted On: 04 May 2023
April new vehicle sales landed at 82,137 units, taking a dip from March (97,251 units), but still well up on April 2022 (81,065 units). This result is generally in line with the longer-term trend, meaning the numbers look strong through the first third of the year.
April Top 5
82,137 vehicles sold (down 15,000 from March), which is largely comparable with the 5-year April average (excluding the COVID-impacted 2020 result)
Toyota's share is down 7.5% YoY but still holds top spot ahead of Mazda and Kia (which jumped Mitsubishi to land in the top 3).
Light Commercial sales continue their slow start, with 17,060 units (down 9% YTD).
Ford Ranger continues to dominate with 3,567 units sold, ahead of Hilux (3,526) and RAV4 (2,198).
EV growth continues, with 6,530 units sold this month. The Tesla Model Y (2,095), MG ZS (1,588) and Tesla Model 3 (1,581) were the top EV models, all making the overall top 10.
Going Deeper
The conversation around vehicle emissions reduction is top of mind given the recent release of the National EV Strategy. This includes an interesting discussion around the future of hybrids as they are tracking well below our 2023 forecasts. Extrapolating out to the end of the year, current sales volumes will see them underperforming by 40%, so let's unpack this further.
The Great Fuel Mix Debate
EVs are becoming more popular, making up 3 of this month's top 10 models. While Tesla is at the forefront, competitors such as MG and BYD are also pushing hard into the Australian market. This has taken us from 7,618 electric vehicles sold between Jan and Apr 2022 to 6,530 being sold in this past month alone. While this growth is unsurprising, it is surprising that EVs have outsold Hybrids for three consecutive months, and that YTD Hybrid sales are down almost 20%.
This is particularly the case given the ACA Research consumer tracker tells us that prospective purchasers are nearly twice as likely to consider a Hybrid (42%) as an EV (22%), with many Australians still not convinced that electric vehicles are right for their daily drive. Interest in Hybrids is clearly still there, meaning the issue sits on the supply side.
Toyota Hybrid Struggles
Considering supply issues naturally brings us back to Toyota. As explored in our March 2023 VFACTS update, consumers are facing extended wait times for many Toyota models as it battles to meet demand. This is particularly relevant to hybrids, given Toyota accounted for 89% of 2022 hybrid vehicle sales, owning the top 7 models in market.
It's a different story this year though, with the RAV4 and Corolla each down 40% YoY. While this is across all variants, hybrid has have been an important part of the sales mix for both models. This certainly paints a clearer picture of hybrid's decline, as well as the struggles facing Toyota if it wants to recover lost ground.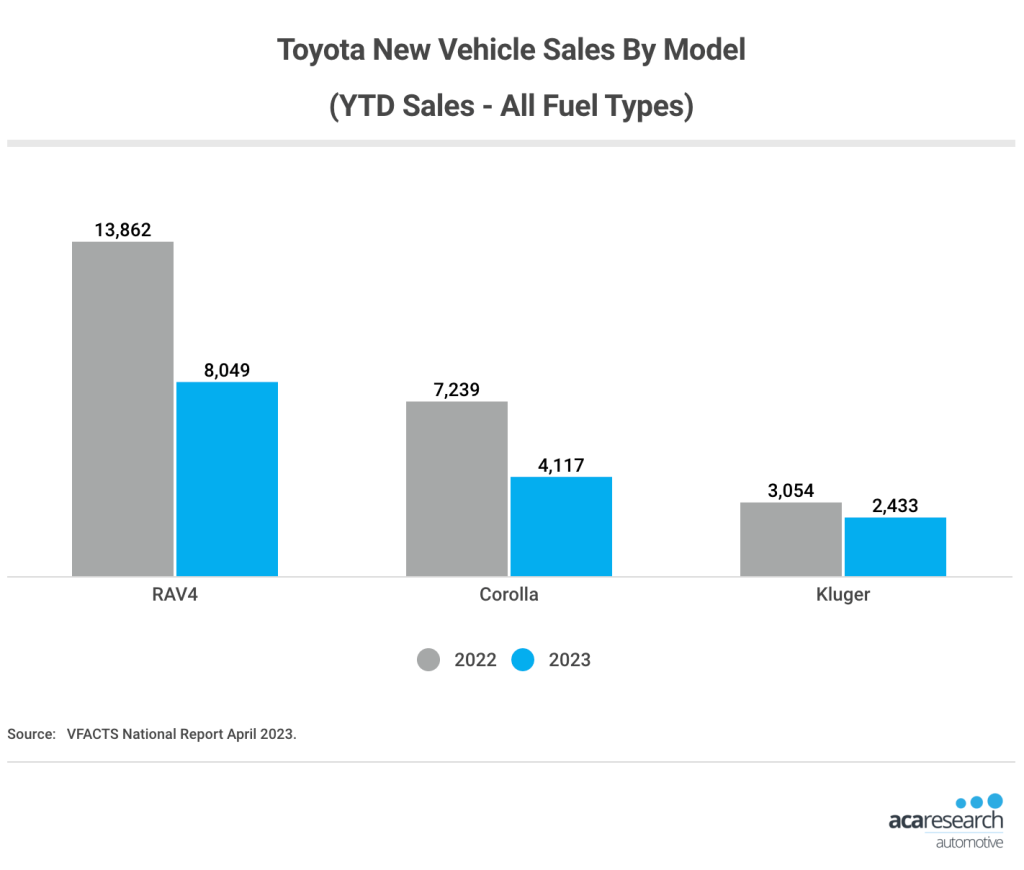 What's next?
The Federal Government is actively working with stakeholders on emission targets, but Toyota's short-term roadmap is still heavily focussed on hybrids. This recognises that while we will see an increasing push to zero emission vehicles, a range of technologies will be needed on this journey, and that from a consumer perspective there is still a strong appetite for hybrid vehicles.
Sit tight for the next update!
For more information about our automotive research, you can browse our automotive blog, reach out to our automotive experts, or access our latest automotive research reports.