Author: Ben Selwyn | Posted On: 28 Mar 2023
The world of the automotive dealership is changing. Electric vehicles are driving significant market change, with many OEMs also using this as a trigger to review franchise arrangements or shift to agency models (where dealerships act as agents selling fixed price vehicles on behalf of the manufacturer, as against negotiating pricing on their own behalf). The key impact here is that traditional drivers of profitability are being eroded, forcing operators to reconsider some of the fundamentals of their business.
Given this, one area of increasing focus for dealerships is servicing revenue. Electric vehicles require less servicing however than their ICE counterparts, so behaviour overseas suggests that as volumes increase, then dealership workshops will need to evolve to become 'one-stop shops' catering to all vehicle needs (i.e. service, smash repair, tyres, etc.).
Dealership Servicing Post Warranty
This does however shift the way dealership workshops need to think about their customers. As can be seen in the chart below, dealerships are very good at maintaining relationships with new vehicle purchasers through warranty, with almost 3 in 4 returning to the dealership for servicing during the first five years. This drops away significantly however once these vehicles move beyond warranty, with less than half of these (slightly older) vehicles returning to the dealership for their most recent service.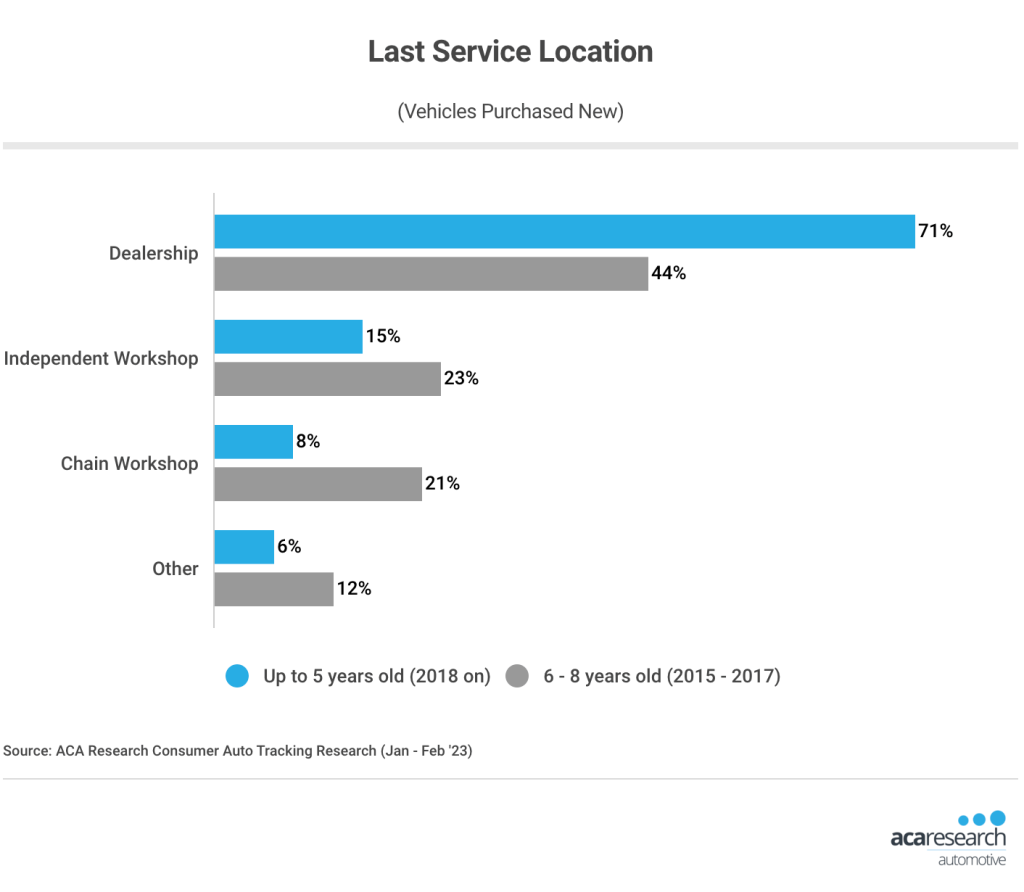 Do Dealerships Have A Gen Z Problem?
Whilst the performance is strong amongst consumers with newer vehicles, does that hold true across different customer cohorts? As can be seen in the chart below, not really. While Boomers and Gen X are highly loyal, this isn't the case among our younger consumers – just 60% of Gen Y, and less than half of Gen Z. In the short term, this isn't a problem, with Gen Z making up around one in ten consumers in this cohort (and so having limited impact in terms of dollar value).
Importantly, this change is less likely to be the result of negative experiences, but talks more to fundamental differences in how these consumers look at vehicle ownership. Gen Z and Gen Y make use of a complex mix of mobility solutions, with privately owned vehicles only one option among many (i.e. public transport, car sharing, micro mobility, etc.). Given this, cost and convenience are likely to be playing a more significant role in their servicing decisions now and into the future.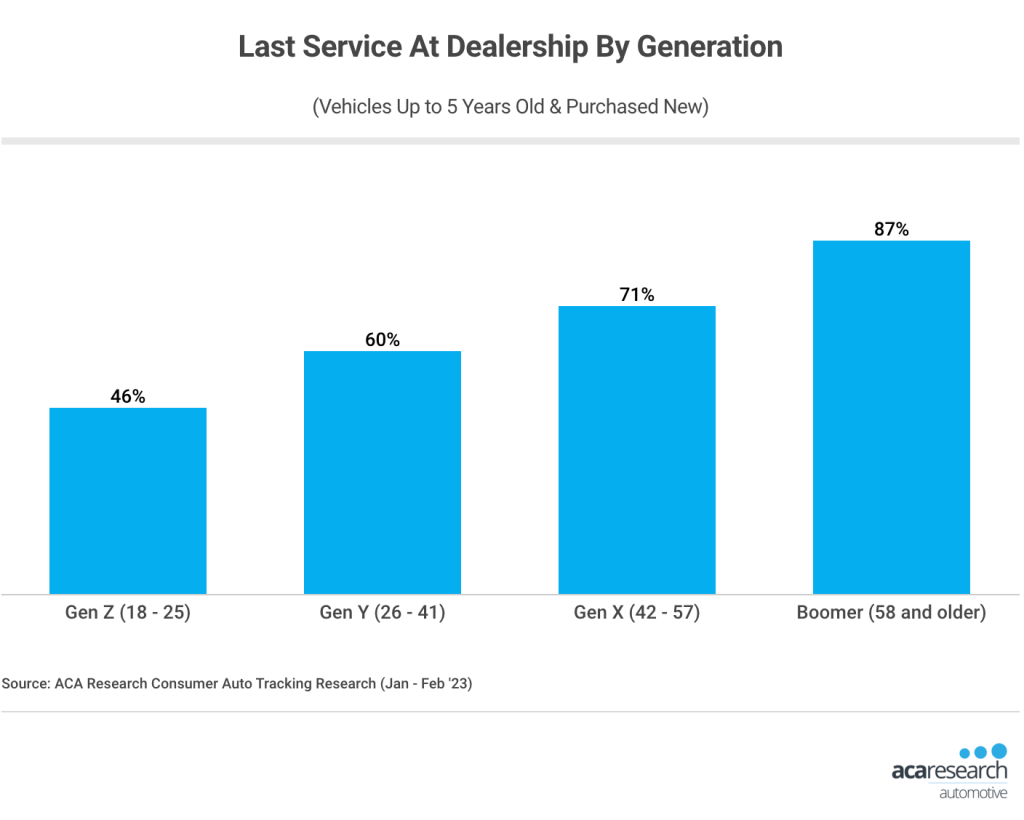 This raises some fundamental questions about whether traditional dealership models can effectively deliver to the needs of younger consumers. Will we see more locations shifting from forecourts to 'experience centres', how might Mobility-As-A-Service be integrated into dealerships, and what other more disruptive ideas might we see come into being?
Wherever it ends up, it's going to be an interesting one to watch, and we'll be tracking these results to see how behaviour patterns shift over time.
For more information about our automotive research, you can browse our automotive blog, reach out to our automotive experts, or access our latest automotive research reports.