Author: Brad Ripps | Posted On: 09 Mar 2023
Another steady month of new vehicle sales in February sets 2023 up for a strong year. The February VFACTS numbers highlight the excitement around EVs (and the impact they're having on the segment mix), and show some clear swings in brand share in the Light Commercial Vehicle (LCV) market.
The Feb Five
86,878 new vehicles were sold through the month of February – up from 85,340 in February 2022.
More than half of the sales were SUVs, with the Mazda CX-5 (2,600 units) the top seller from the segment.
The EV growth trajectory continues, capturing 7% of total monthly sales (5,932 units, compared to just 600 in Feb last year).
Toyota, Mazda and Ford remain well positioned at the top of the market, but Chinese brands (i.e. MG, LDV, GWM) continue to grow aggressively.
The Ford Ranger takes the crown as the highest selling model in February (4,473 units), comfortably ahead of the Toyota Hilux (3,939 units). The Tesla Model 3, Mazda CX-5 and Mitsubishi Outlander round out the top 5.
light commercial vehicle (LCV) market shifts
New vehicle sales have enjoyed a steady start to the year. Both January and February recorded more than 80,000 sales, which is an increase of over 10,000 units on the same months in 2022. While there has been growth in overall units, this is not however the case for LCV.
Compared to last February, LCV sales have reduced from 21,709 units to 18,750 (making it the only segment to see a drop in monthly sales YoY). This is in the context of SUVs continuing to dominate the market, while the previously weak passenger segment is being propelled by the success of the Tesla Model 3 (2,617 units), and Heavy Commercial is up 794 units YoY.
This is a change for the LCV segment, as it's recorded YoY growth since 2015 (even through COVID). In fact, this is the first time since August and September of 2020 that the segment has dipped below 19,000 in consecutive months.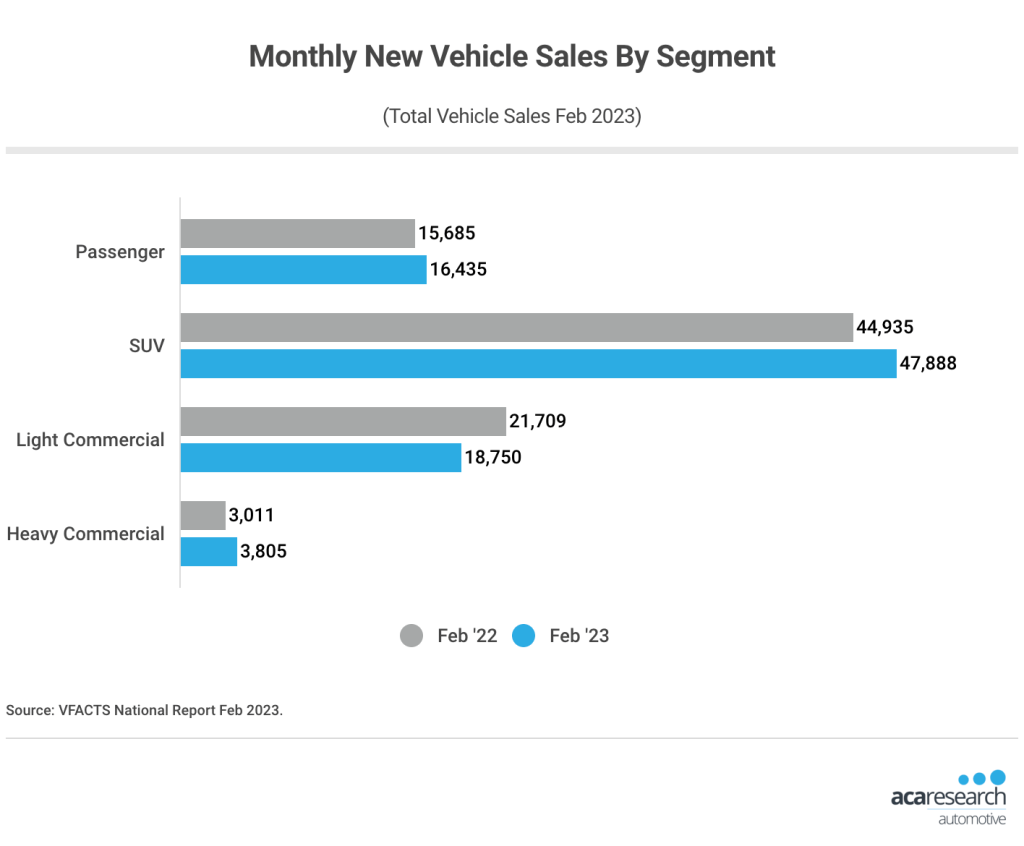 New Entrants Pulling Share
As well as a change in sales volume, LCV has also seen a level of change in the brands that lead and influence the market. At the top, the Ford Ranger (4,473 sales) has unseated the Toyota Hilux (3,939 sales) as number one off the back of strong growth. Ford and Toyota's LCV's combine to account for over half of segment sales, continuing to shape the category.
We can however see a level of decline for traditional powerhouses in Mitsubishi and Nissan. Looking at Mitsubishi specifically, the Triton has fallen from being the second most popular vehicle in February 2022 (with 18% market share for the brand) to sit behind both the Ranger, Hilux, and Isuzu D-Max with just 7% share.
These brands are also being impacted by substantial increases in competition, especially for price conscious consumers. Chinese made Utes have flooded the market with cheaper options, with LDV (1,053 units) and GWM (718 units) both successfully taking share from established competitors. It will be interesting to watch this space to see how established players respond to these swiftly growing brands.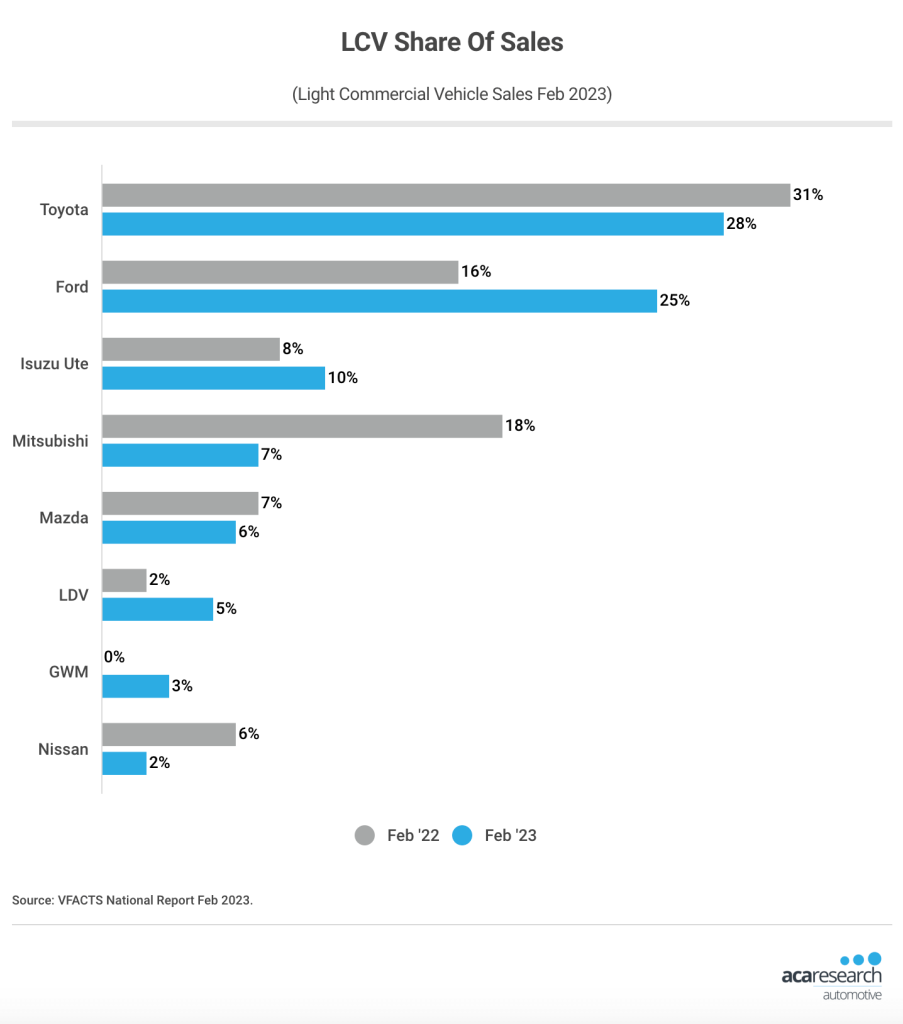 Where to from here?
While this was a down month for the segment, demand isn't going to fade away. Trade-based sectors (e.g. construction and distribution) rely too heavily on these vehicles, and new entrants continue to improve competition, and create more options for consumers. We'd expect to see a level of recovery as vehicle supply continues to normalise and we move towards the end of the financial year. We'll check back in later this year though, and see if we were right!
For more information about our automotive research, you can browse our automotive blog, reach out to our automotive experts, or access our latest automotive research reports.