Author: Madelief Johnston | Posted On: 28 Jul 2023
End of Financial Year is a key marker for both businesses and consumers, as they review performance over the past 12 months, and plan for the year ahead. For the automotive market, FY23 recorded a high level of sales, with 1,125,319 vehicles entering the market. This is a 10% increase on FY22, and a return to pre-pandemic levels of new vehicle sales.
Top takeaways
There were over 100,000 more vehicles sold in FY23 then FY22, putting it comfortably ahead of the pre-COVID peak in FY19 despite continuing supply issues
Toyota sales dropped 15%, creating opportunities for new makes and models to pick up share
At a model level, this mean perennial favourites the Toyota Corolla and Prado have dropped out of the top 10, replaced by the Mitsubishi Outlander and Hyundai Tucson
Electric vehicles are on the rise, with 66,822 EVs sold in FY23, compared to just 12,612 in FY22
China has overtaken Korea as a source of new vehicles, with an 88% YoY increase as 169K Chinese-made vehicles were sold in FY23
Achieving Impressive Sales Growth
The year-on-year sales increase in FY23 is particularly impressive given the ongoing supply issues that have been impacting vehicle availability. While Toyota has been hit particularly hard, other established manufacturers like Ford, Mazda and Hyundai have been able to fill the gap. Newer brands like MG and BYD have also taken advantage of the opportunity to strengthen their position in market.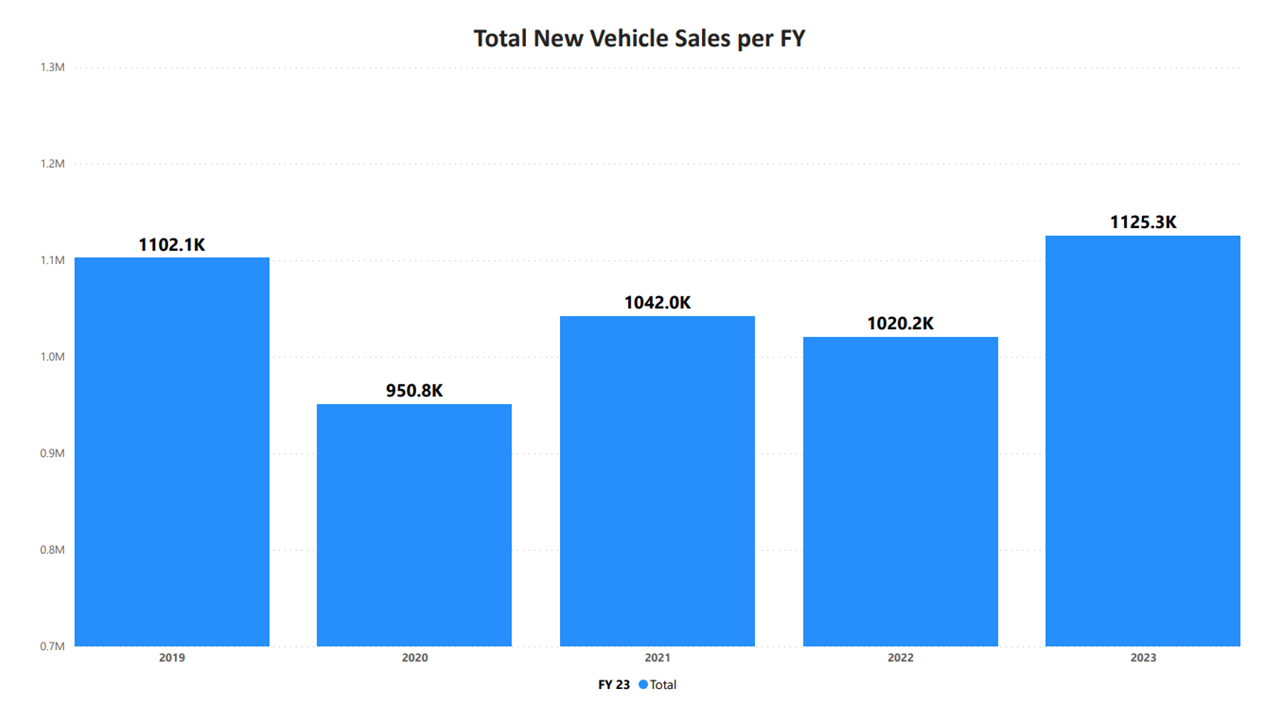 A Changing Of The Guard
Despite Toyota's struggles, the brand has retained overall top spot for FY23, with the Hilux recording 7% growth as it sold 7,000 more units than its closest competitor in the Ford Ranger. This is despite Ford capturing an impressive 22% more sales with the updated Ranger (particularly the 4×2 model that grew sales 58% year on year). Despite a significant yearly decline, Toyota also managed to retain third sport with the RAV4, just 2,000 units ahead of the fourth placed MG ZS. It did however lose other spots in the top 10, with both the Corolla and Prado dropping out due to continuing supply issues (replaced by the Mitsubishi Outlander and Hyundai Tucson as they fell to 11th and 16th respectively). Big winners though were the 4th placed MG ZS (up by 6K from last FY), and new entrant Tesla with the Model Y (recording 23K sales this FY)*.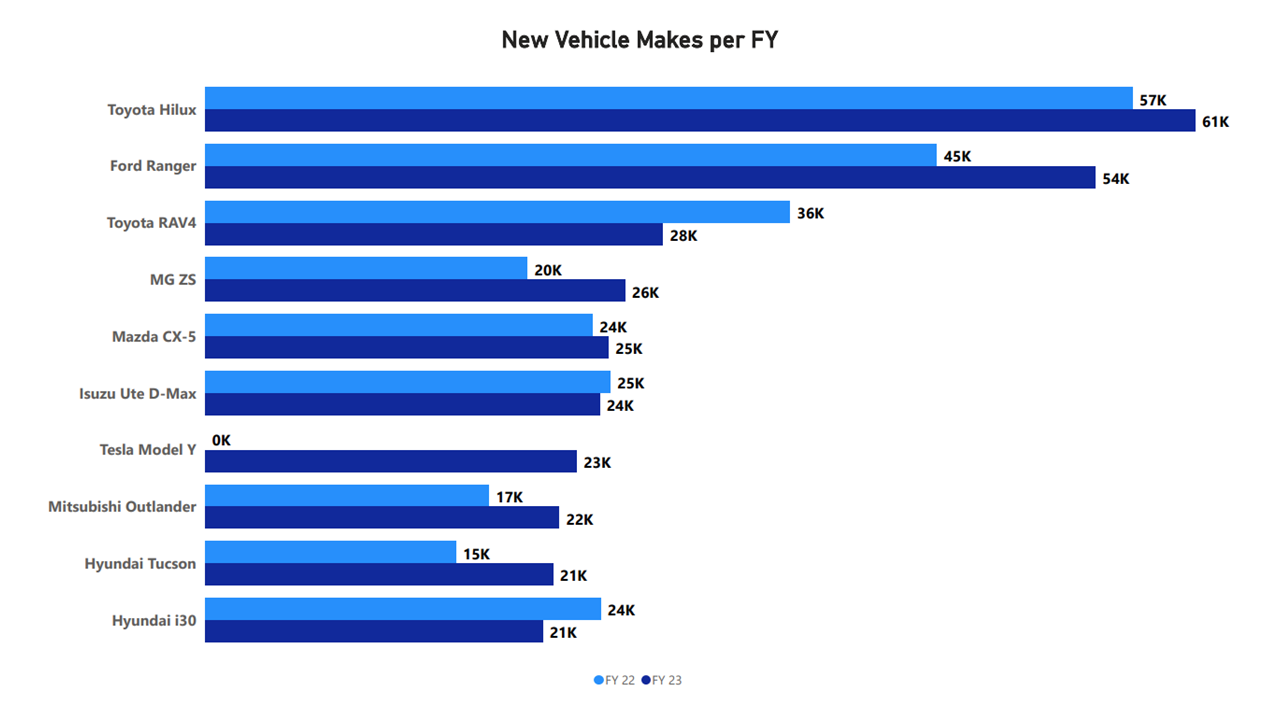 (*noting Tesla sales were only made publicly available from in March 2022)
continuing the low emissions journey
EV sales continue their exponential growth, recording a 430% rise this FY. Tesla's trajectory as the market leader here continues, increasing by 216%* (+10,047 vehicles) in the second half of FY23. Market newcomers BYD has also established a strong foothold in the market, recording just over 8k vehicle in its first FY. Off the back of that, it's now expanding its range, and ramping up production of the Atto 3. Premium brand Polestar has also sold more than 2,000 Polestar 2s this year, compared to only 600 vehicles last FY.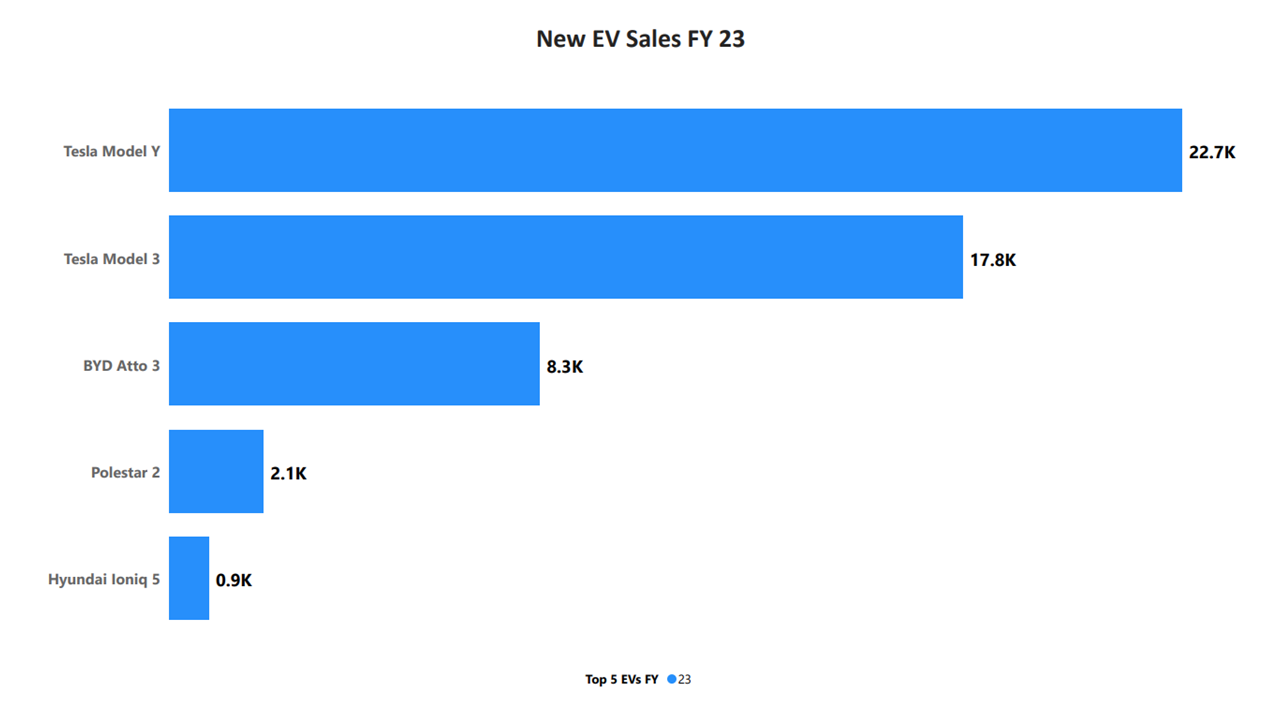 What's next?
While we are still seeing many marques struggling to deliver consistent volumes into the Australian market, this is in no way slowing down sales. The question therefore becomes more about how the market will change, if (and when) Toyota makes a comeback. Will it cannibalise share from other brands, or will we continue to see growth in total sales volumes? Equally, it will be exciting to watch the continuing rise of the EV, and how newer makes like BYD compete against market leader Tesla.
Sit tight for the next update!
For more information about our automotive research, you can browse our insights page, reach out to our experts, or access our latest automotive research reports.