Author: Matthew Beatty | Posted On: 09 Jun 2023
May new vehicle sales landed at 105,694, increasing 28% from April (82,137 units), and making it the highest selling May in history (up 2,793 units from the previous record set in 2017). This result builds on the strong start to the calendar year, and is the 10th month out of the last 11 to post YoY growth. With that said, we must flag a note of caution, as many of these vehicles will be fulfilling long-standing orders, and the worsening economic climate is likely to impact sales numbers in coming months.
May Top 5
Toyota again claimed top spot with 18,340 sales, followed by Mazda at 8,475 and Hyundai at 7,018 (beating stablemate Kia into 4th by just 78 units)
Imports from China continue to rise, with a 31,966 vehicle increase compared to this point in 2022. Notably, Japanese imports has seen the largest YoY decrease, decreasing by 21,896 units YTD.
EVs continue their strong form in May 2023, posting a 275% increase YoY for year-to-date sales (32,050 for 2023 vs 8,543 for 2022), mainly due to the fulfillment of Tesla orders
Battery EV's accounted for 7.7% of the market sales in May (8,124), and are running at 7% year to date (32,050). In May last year, they were sitting at 1% (925) for the month and 2% for the year.
Sales of hybrid (-16%) and diesel vehicles (-8%) both decreased in May 2023
Sentiment around the surge
Despite the market breaking records, we believe that this is a case where we need to look deeper. The broader economic environment and rising cost of living pressure suggests more turbulent waters ahead. FCAI Chief Executive, Tony Weber, said "This result is a signal that we are starting to see some improvement in supply… However, not all issues are resolved, and our members continue to work with their customers to improve vehicle delivery times."
It is worth noting that many of the vehicles captured in the record May result were fulfilling orders dating back to 2022, with average wait times still sitting around 4 months. Whilst the average wait time in May 2023 is 116 days (down from 147 days in May 2022), there are a few big brands still seeing wait times extend beyond 6 months.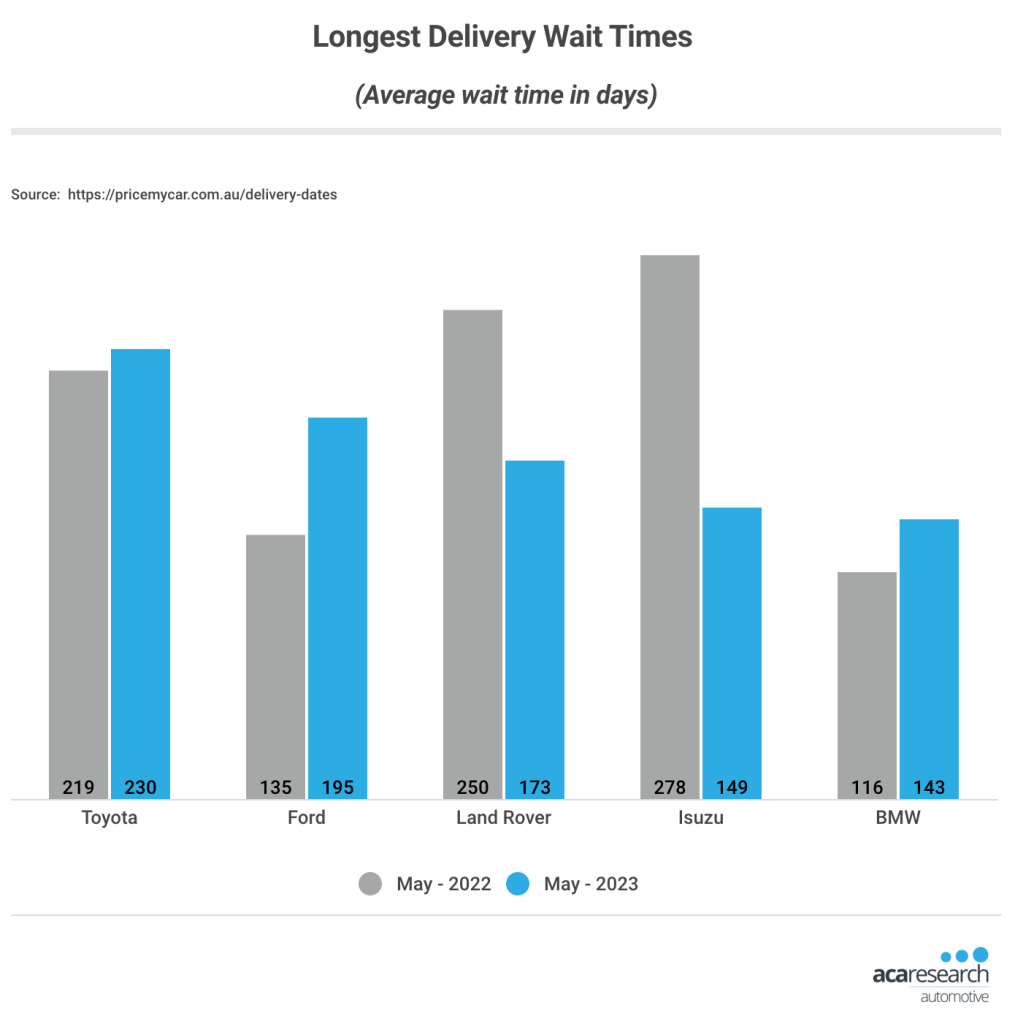 Good news for businesses
The recording breaking May result included a spike in business vehicles sold, resulting in a 34% monthly increase off the back of a weaker April. This was good news for business fleets around the country who were hoping to acquire their new vehicles before the start of FY24. From July 1, the federal government's Instant Asset Write-Off Scheme will be wound back, with the cap on the value of the asset coming back to $20,000. Given the asset needs to be in use before that date, any small businesses not receiving their vehicles by the end of June will lose the ability to claim the full deduction back in the first year. Small (and large) fleets around the country would therefore have been pleased to see almost 40,000 orders being filled in May, and will hope for this trend to continue into June.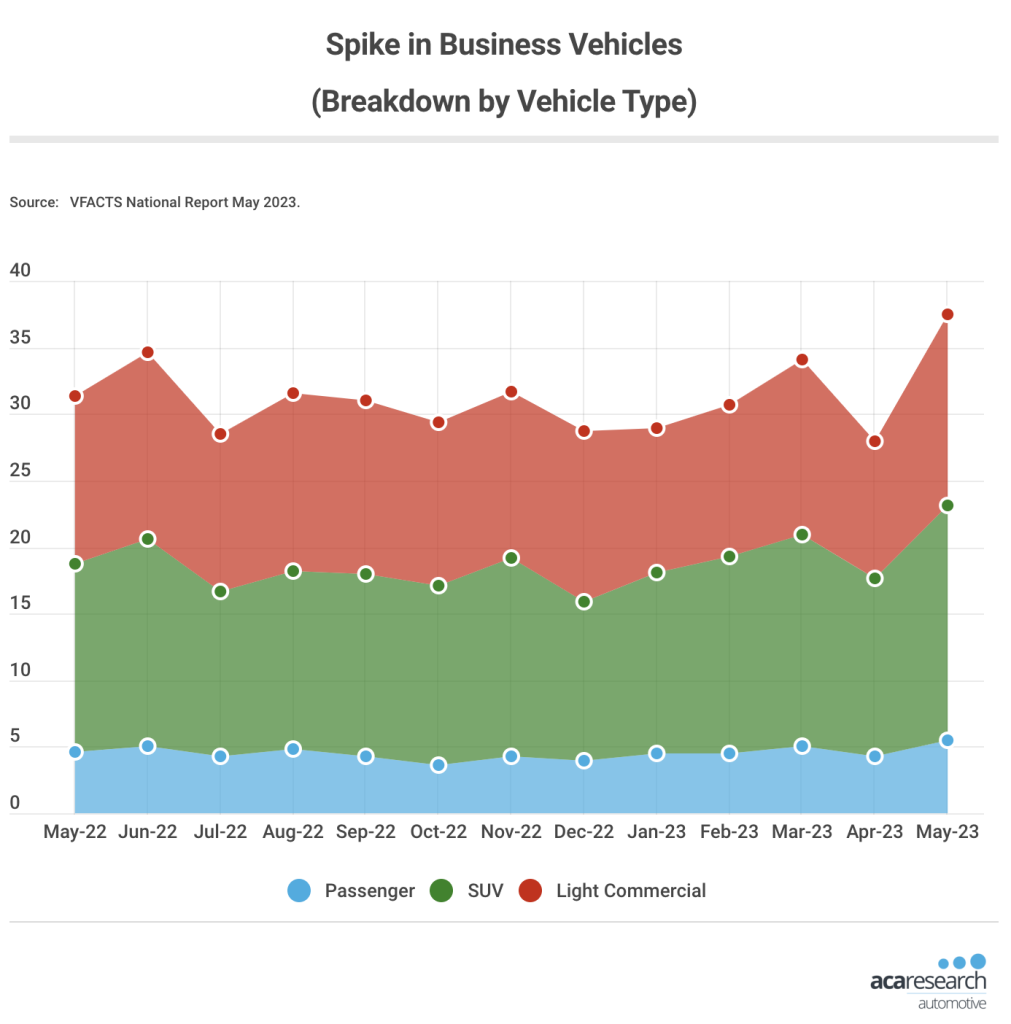 What's next?
Heading into the final month of the financial year, we expect to see the ongoing economic uncertainty, increasing cost-of-living pressure, and further interest rate hikes affecting automotive sales. Both consumers and businesses will be impacted, which could lead to order cancellations, and reduce willingness to spend on big ticket items like new vehicles. Given this, we're currently revising our sales forecasts downwards.
Will we be right? Stay tuned to find out!
For more information about our automotive research, you can browse our insights page, reach out to our experts via the form below, or access our latest automotive research reports.