Author: Madelief Johnston | Posted On: 13 Apr 2023
It is no secret that Aussies love utes. Whether it's work or play, towing or off-roading, Australians love a car that can do it all. What does that mean in 2023 though, as electric vehicles (EVs) become more prominent, and consumers become more environmentally conscious.
Currently, there is only one stock EV ute on the market in Australia, the LDV eT60. With a range of just 330km and a hefty price tag, it's expensive for what you get. While other manufacturers are working on electrification, it appears unlikely there will be mainstream options in the market till 2025-2026 at the earliest. This isn't helped by international markets predominantly focusing on LHD, with limited production of RHD models. While some local companies like ROEV are responding to this by converting Toyota HiLux and Ford Ranger to EV, their main focus is fleet buyers.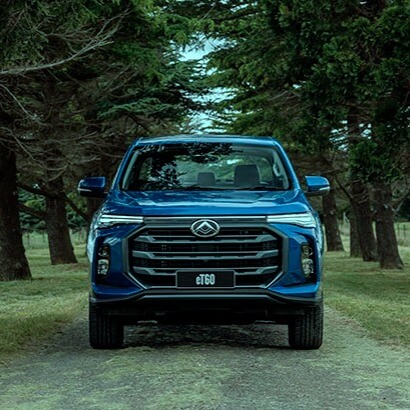 This all talks to the supply side though, which raises the question – are Australian consumers ready for electric utes? Looking at consumers who expect to purchase a vehicle in the next 12 months within the ACA Research Consumer Tracking Survey, around 1 in 10 of them are considering utes. While they might typically expect this to be a petrol or diesel model, half of those considering a ute are willing to consider hybrids, with a quarter open to electric alternatives. This tells us that individuals looking at purchasing a ute are open to different power trains, but do see hybrid models as having an advantage over pure electric. Given the varying use cases for utes, this talks to a desire for security, with many consumers still not ready to completely cut the cord.
This does however split by location, with regional purchasers much less likely to consider either hybrid or electric. Unpacking this further, regional purchasers appear to feel that while EVs may be great for city use, they aren't yet viable in more remote areas. This group isn't sold on the reliability and durability of electric vehicles, and are generally less likely to believe EVs will be a mainstream alternative within the next five years. Fundamentally, they lack confidence that EV utes (and the supporting infrastructure) can deliver to the needs of rural users in the short to medium term.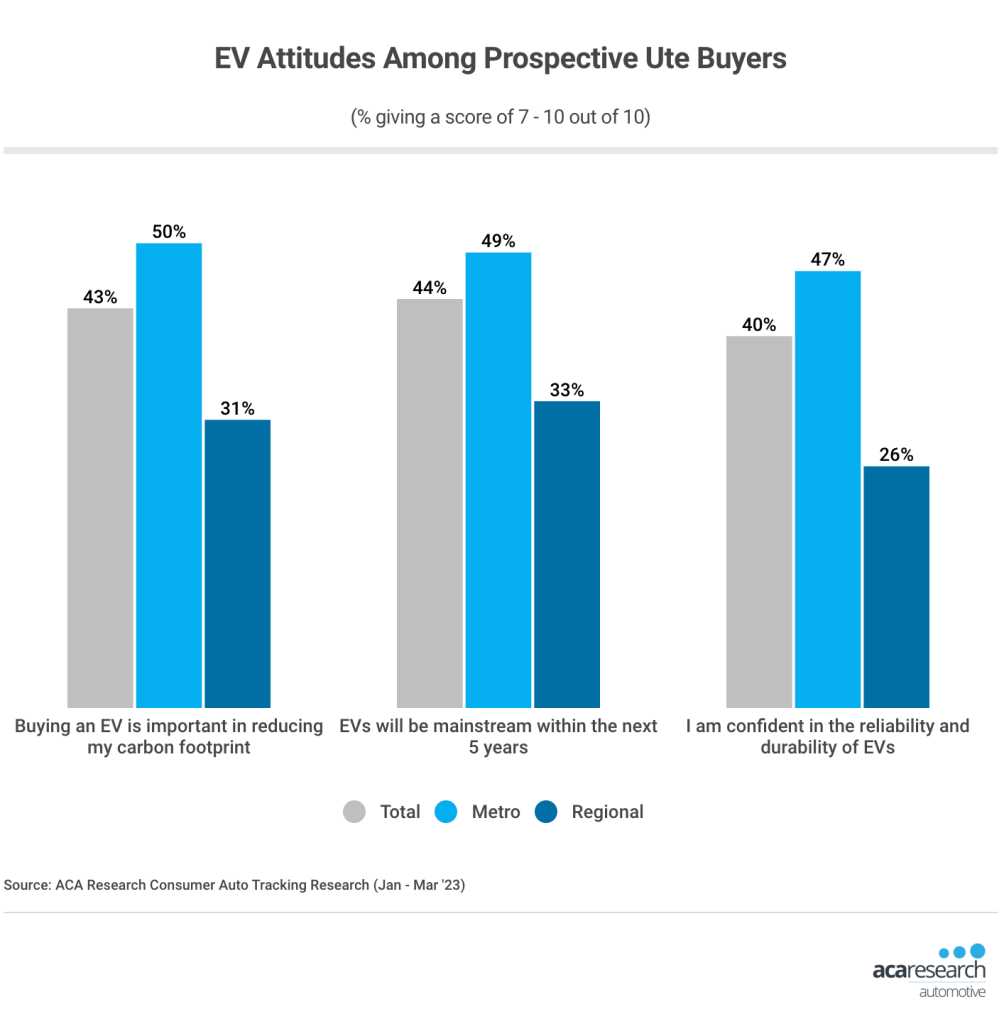 It's a different story though for metro consumers, with one in two believing that EVs will become mainstream within the next five years, seeing this as an opportunity to reduce their carbon footprint. This group also already trusts that EVs are reliable and durable, suggesting a willingness to shift away from traditional internal combustion powertrains.
In summary, people that are looking at purchasing a Ute are not completely discounting EVs. The big challenge however will be overcoming their concerns and convincing many regional Australians that they can receive the benefits of electrification without trading away vehicle performance or usability.
However, this all remains hypothetical until electric utes can cater to Australian needs by offering sufficient range, towing capabilities and infrastructure to give consumers confidence about switching from internal combustion to electric. Along this journey, we expect to see manufacturers exploring alternate technologies as part of their overall emissions reduction strategy, with hybrid a viable interim solution, and hydrogen potentially being more suited to regional and remote parts of the country.
With all of that said, what does the future look like for electric utes? While there's a number of barriers still to overcome, we'd say their rise is not a question of if, but when.
For more information about our automotive research, you can browse our automotive blog, reach out to our automotive experts, or access our latest automotive research reports.