Author: James Organ | Posted On: 07 Mar 2023
Updates to this research are published monthly. View Previous Wave.
The latest wave of the SME Sentiment Tracker shows after a long road back and a strong Christmas period, SME revenue, profit and confidence are softer in 2023 indicating the slowdown has commenced.
40% of SMEs reported lower revenues than before the pandemic and only 43% reported a profit for the month of January. Sentiment about the Australian economy has also dropped significantly with 69% expecting weaker conditions over the next 3 months. This compares to 54% in December. Accordingly, the number of growth focused SMEs continues to steadily decline to just 32%, from a high of 43% in August.
Table 1: Growth Expectations (Next 12 Months)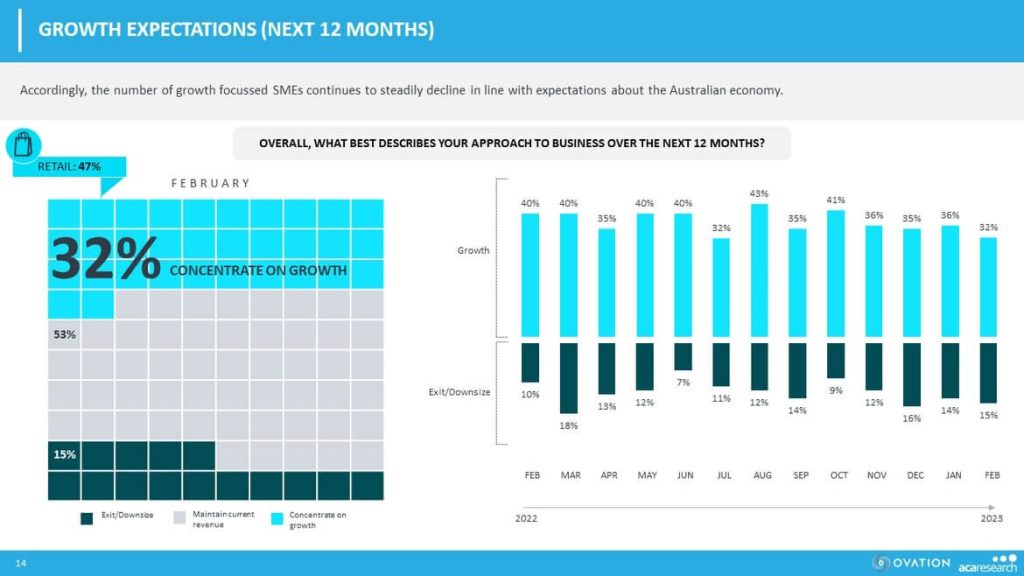 Concerns about rising costs are significant and clearly impacting SMEs, with 83% now concerned about inflation and rising interest rates. To offset higher costs 63% of SMEs have increased their prices, but the majority have only partially recouped the extra costs.
Table 2: Cost Challenges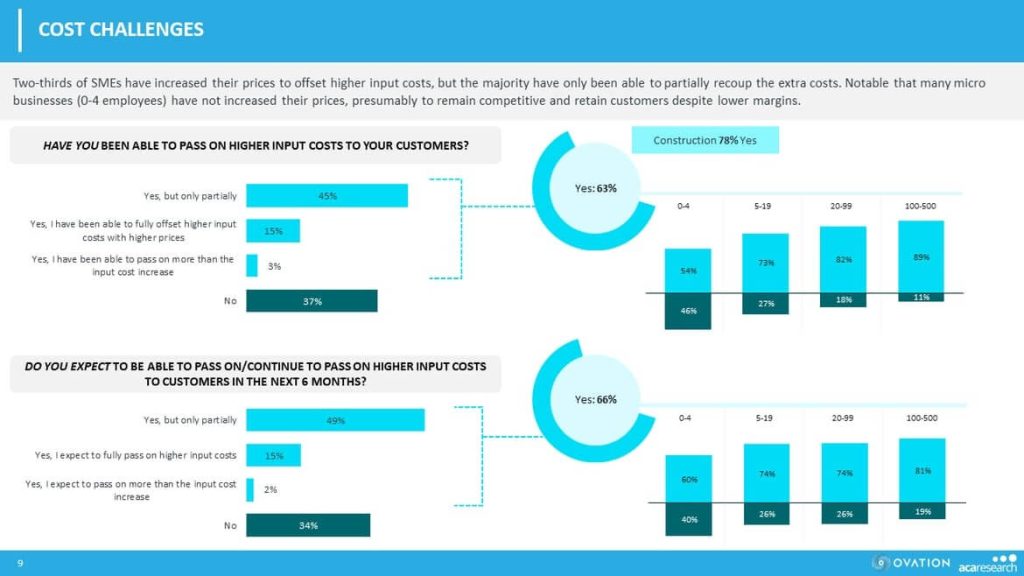 Business conditions are impacting investment intentions across the board, with many SMEs expecting to decrease capital investment (27%), employee numbers (15%) and wage growth (13%) over the next 3 months.
Table 3: Business Investment (Next 3 Months)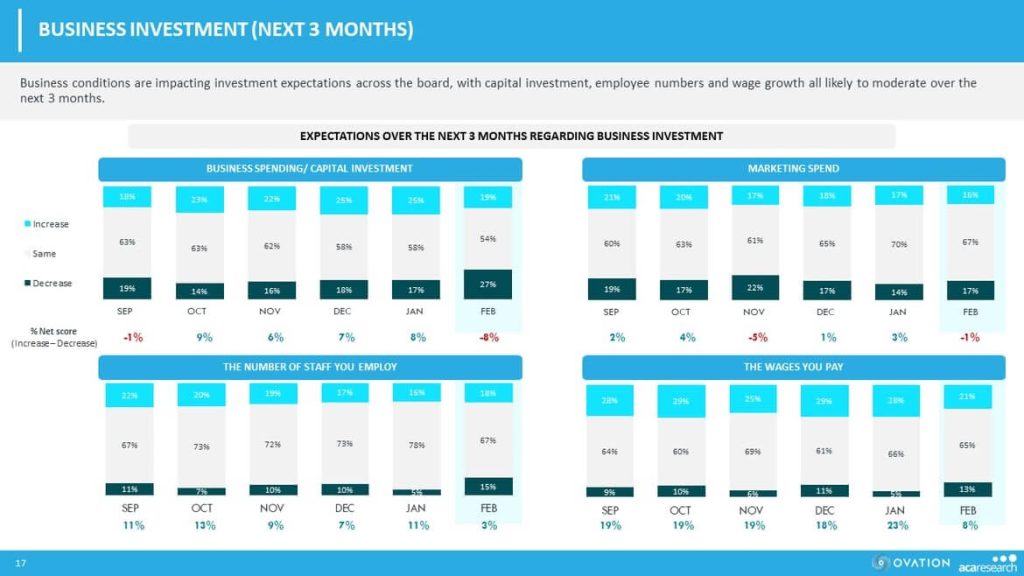 The demand for additional finance also continues to decline as interest rate hikes persist. Only 7% expect to incur more debt over the next 3 months compared to 15% in December. 12% of SMEs reported they will have difficulties meeting their existing loan repayments over the next 6 months.
Table 4: Finance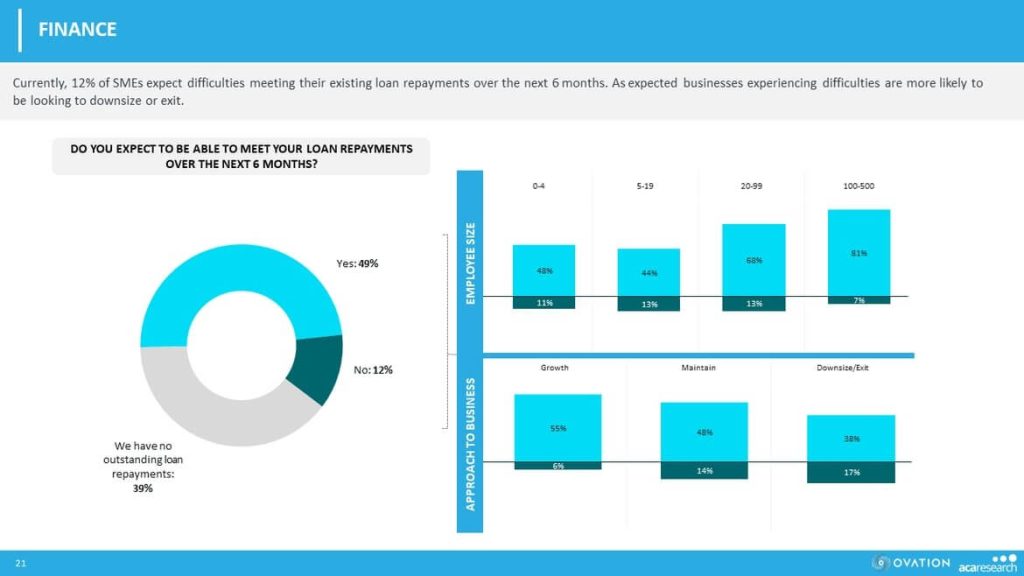 Support for the Government has also declined with only 34% of SMEs satisfied with the ability of the Government to deliver effective policies that support their business needs. This is a drop of 5% from 39% since last month.
Table 5: Government Policy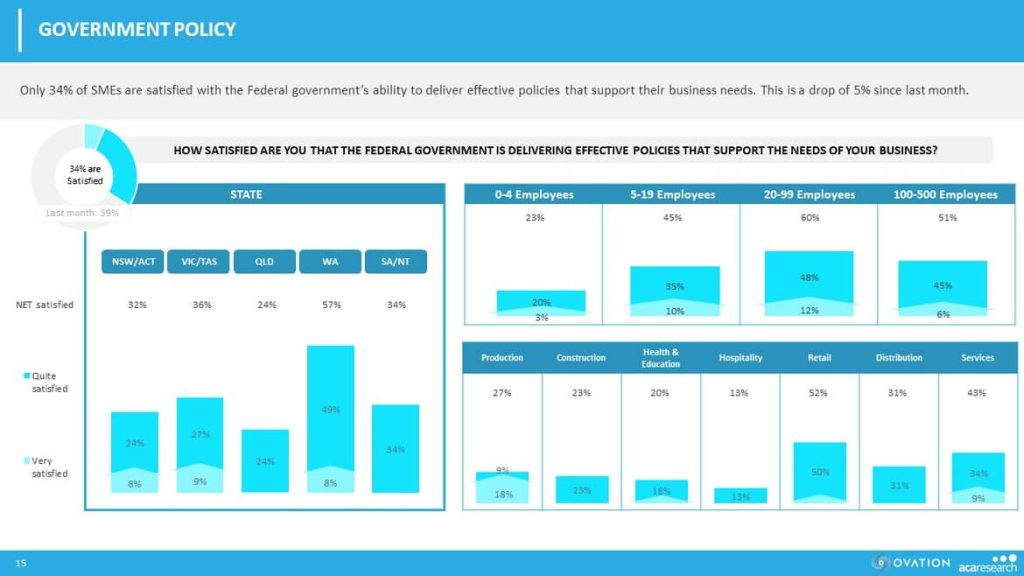 In summary, it feels like many SMEs are now at a tipping point, experiencing declining revenue and profits, and difficulties managing rising costs and interest rates. Accordingly investment intentions are falling and the demand for new employees, capital equipment and finance are all lower this month. With another interest rate rise just announced, there is more pain ahead for SMEs in the short term.
Please click on this link to access the full report including subgroup analysis by industry sector, size of business and State. ACA Research and Ovation Research will publish monthly updates of this research.