Author: James Organ | Posted On: 06 Jun 2023
Updates to this research are published monthly. View previous wave.
The latest wave of the SME Sentiment Tracker shows that despite slightly softer revenue and profit numbers, SME financial performance was relatively strong in May. 55% of SMEs reported a profit despite ongoing concerns about rising costs especially in relation to interest rates (81%), fuel costs (79%) and energy costs (78%).
Table 1: Business Concerns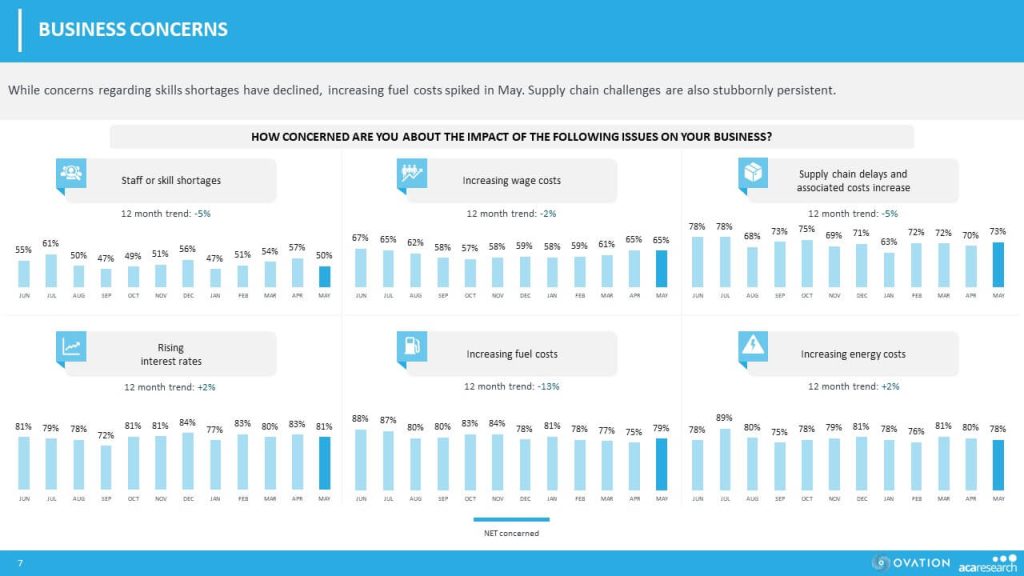 One third (33%) of SMEs also expect wage rises over the next 3 months which for many is triggered by reviews at the end of the financial year. This will be heightened by the minimum wage rise recently announced.
Table 2: Business Investment (Next 3 Months)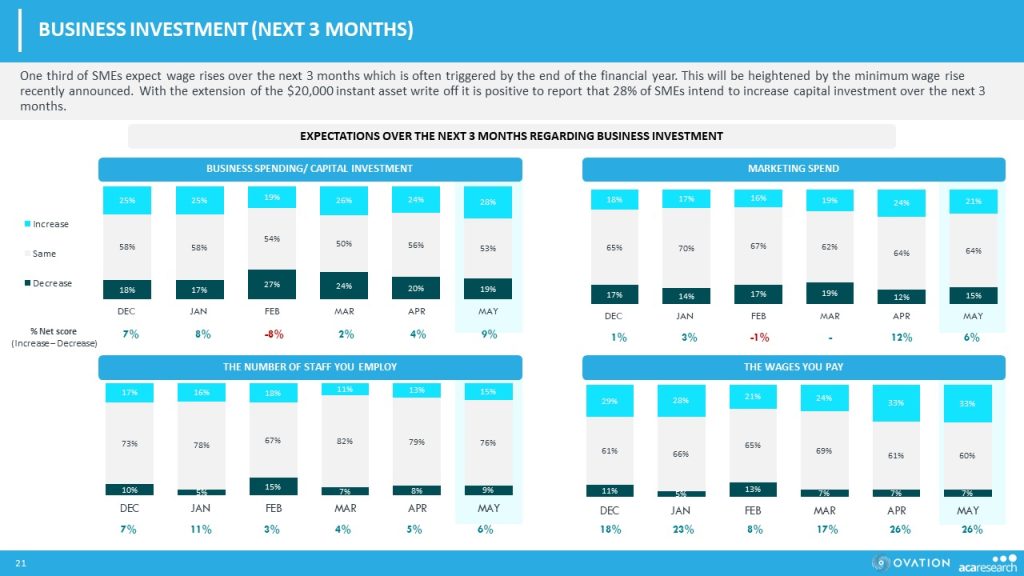 Less SMEs (65%) were able to pass on increased input costs in May, suggesting customers are unwilling to pay more and competitors are dropping their prices. While this is good for reducing inflation, SME profits will also decline. Accordingly, 39% are fearful that they would not withstand the impact of a recession over the next 12 months.
Table 3: Recession Readiness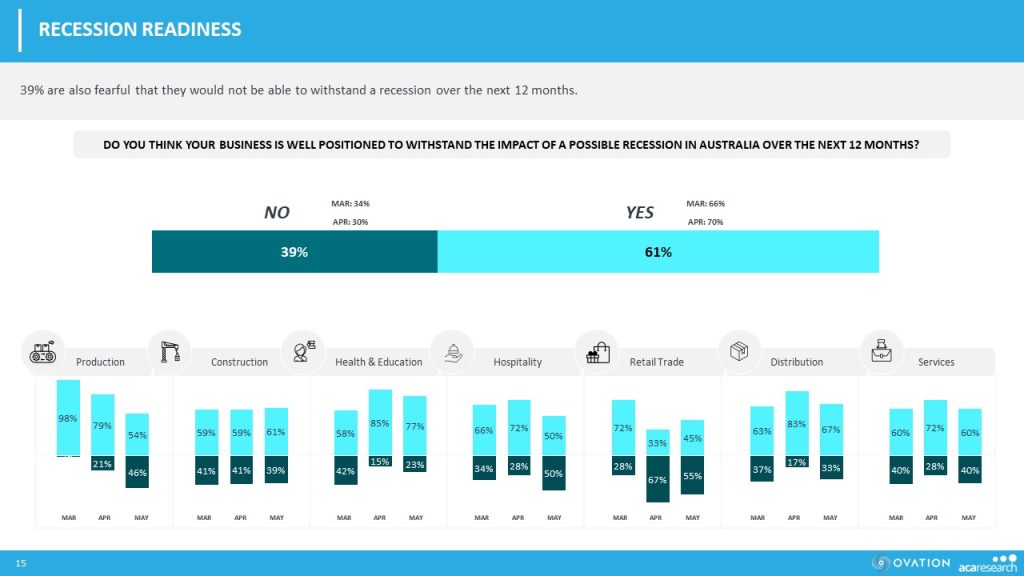 However, the proportion of growth orientated businesses remains steady in May, with 35%
targeting growth over the next 12 months. Despite these growth expectations, short-term revenue expectations continue a downward trend with only 23% expecting revenues to increase over the next 4 weeks, compared to 32% in March.
Table 4: Revenue Expectations (Next 4 Weeks)
Although many SMEs are concerned about the future, sentiment regarding the Australian economy continues to very slowly tick up, with 57% expecting weaker conditions over the next 3 months, compared to 69% reported in February.
Table 5: Expectations Regarding Economic Conditions (Next 3 Months)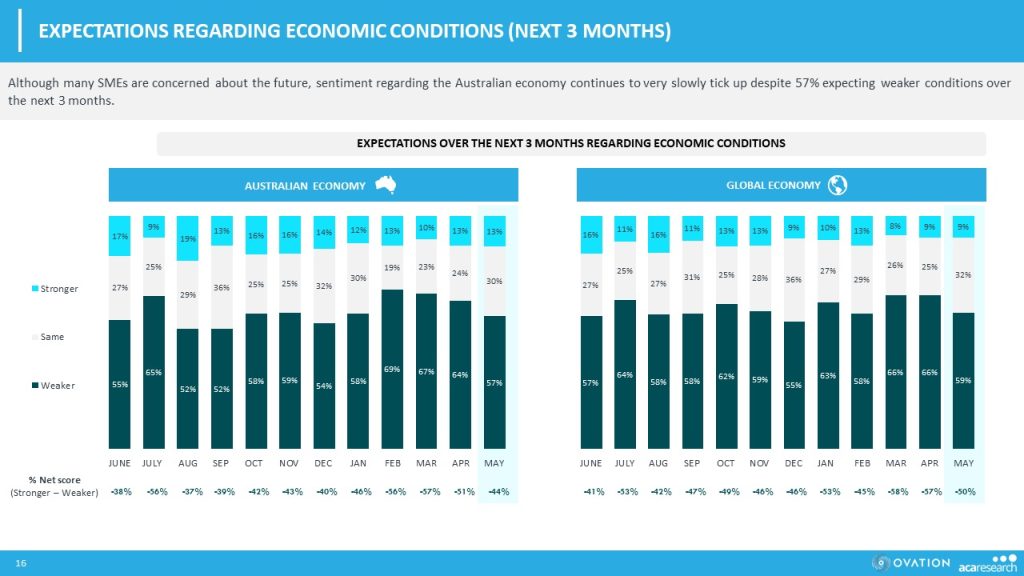 However, recruitment activity continues to slow with only 18% looking to fill roles compared to 26% in March. Hospitality continues to be the most active, but most industry sectors are pulling back on their search for staff.
Table 6: Recruitment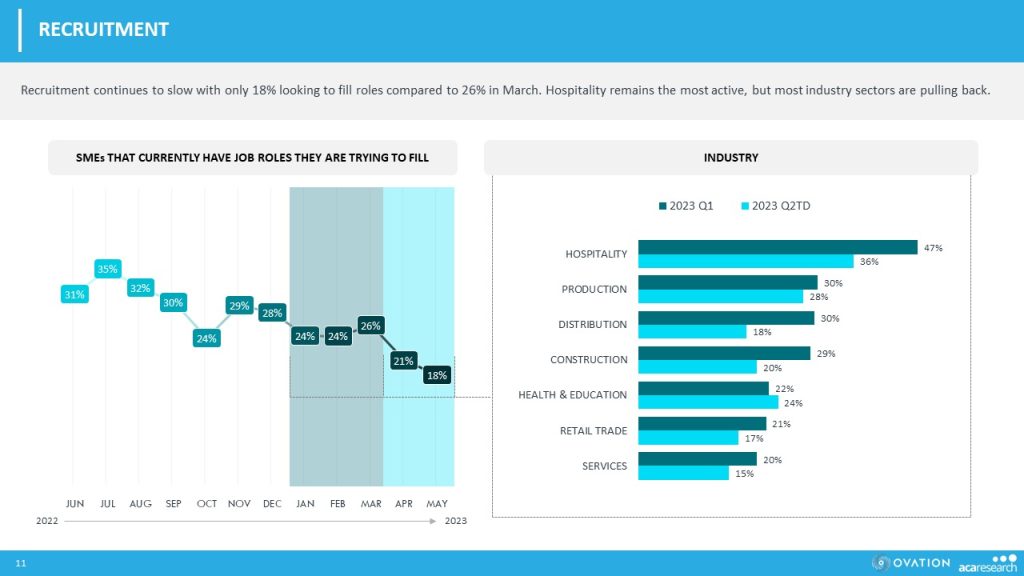 Satisfaction with the federal Labor Government continues to be flat, with less than a third (29%) of business decision makers satisfied. We suspect this will decline further in June due to dissatisfaction with the minimum wage announcement. The Government is struggling to resonate with only 19% of SMEs satisfied with the latest Federal Budget delivered on May 9th, 2023.
Table 7: Federal Budget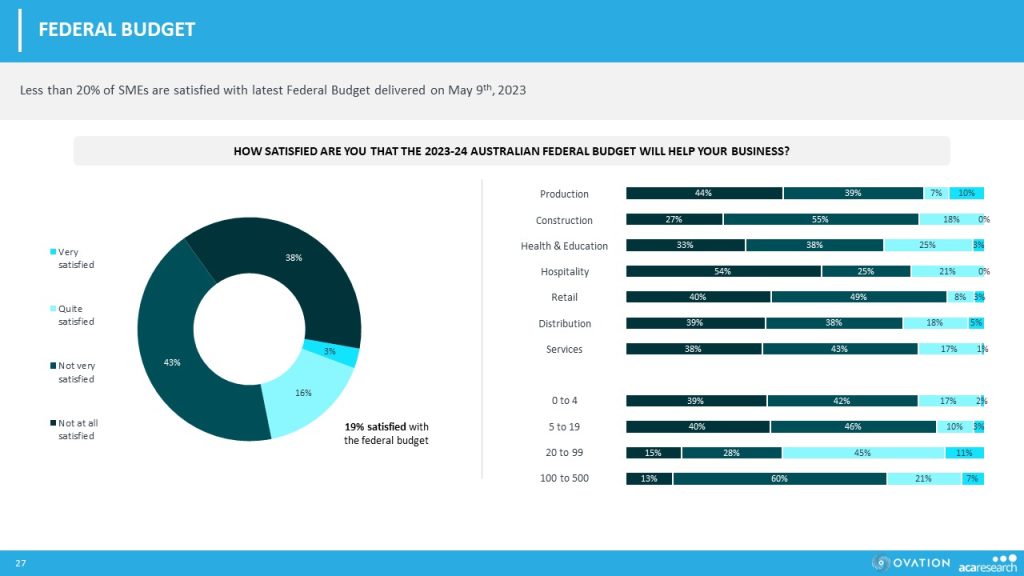 In summary, SMEs continue to endure difficult conditions including ongoing cost pressures. Accordingly, sentiment remains weak and therefore recruitment activity is on hold for many. The RBA's decision to again increase interest rates in June will be very difficult for SMEs to take, with nearly 40% already reporting the impact of a recession could be difficult to withstand.
Please click on this link to access the full report including subgroup analysis by industry sector, size of business and State. Fifth Quadrant and Ovation Research will publish monthly updates of this research.