Author: Ben Selwyn | Posted On: 26 Sep 2023
The Australian new vehicle sales market is in a state of flux, with brands shifting from franchise to agency models, others considering Direct To Consumer (DTC) sales, ongoing vehicle shortages and supply chain constraints, and the accelerating shift to electric vehicles. This is disrupting traditional expectations around loyalty. Consumers who might traditionally default to 'same again' when upgrading a vehicle are suddenly finding themselves with a range of new makes and models on offer.
We explored this further in the August edition of the Fifth Quadrant Consumer Tracking Study, unpacking the extent to which different brands might be able to count on existing customers for future sales, and identifying the ones that will need to attract a more diverse customer base in order to maintain share into the future.
As can be seen in the table below, there's an unsurprising leader, with almost three in four Toyota customers most likely to select this brand again. Another strong performance in second, with just under two thirds of Kia owners listing it as their preferred brand for their next vehicle.
The next group also includes some perennial heavyweights (Mazda, Hyundai), as well as two brands that might sell in (slightly) lower volumes, but are clearly able to generate high levels of loyalty within their customer base (VW, Subaru).
One brand where we should add a note of caution is Ford. Despite being positioned at the bottom of our list, many current owners would still be driving legacy models. In fact, the 560,778 Falcons still on road make up almost a third of the Fords currently registered in Australia, with those customers unlikely to feel a sense of loyalty to a model that no longer exists when it comes to choosing their next vehicle.
car loyalty – Likelihood To Purchase Same Brand As Current Main Vehicle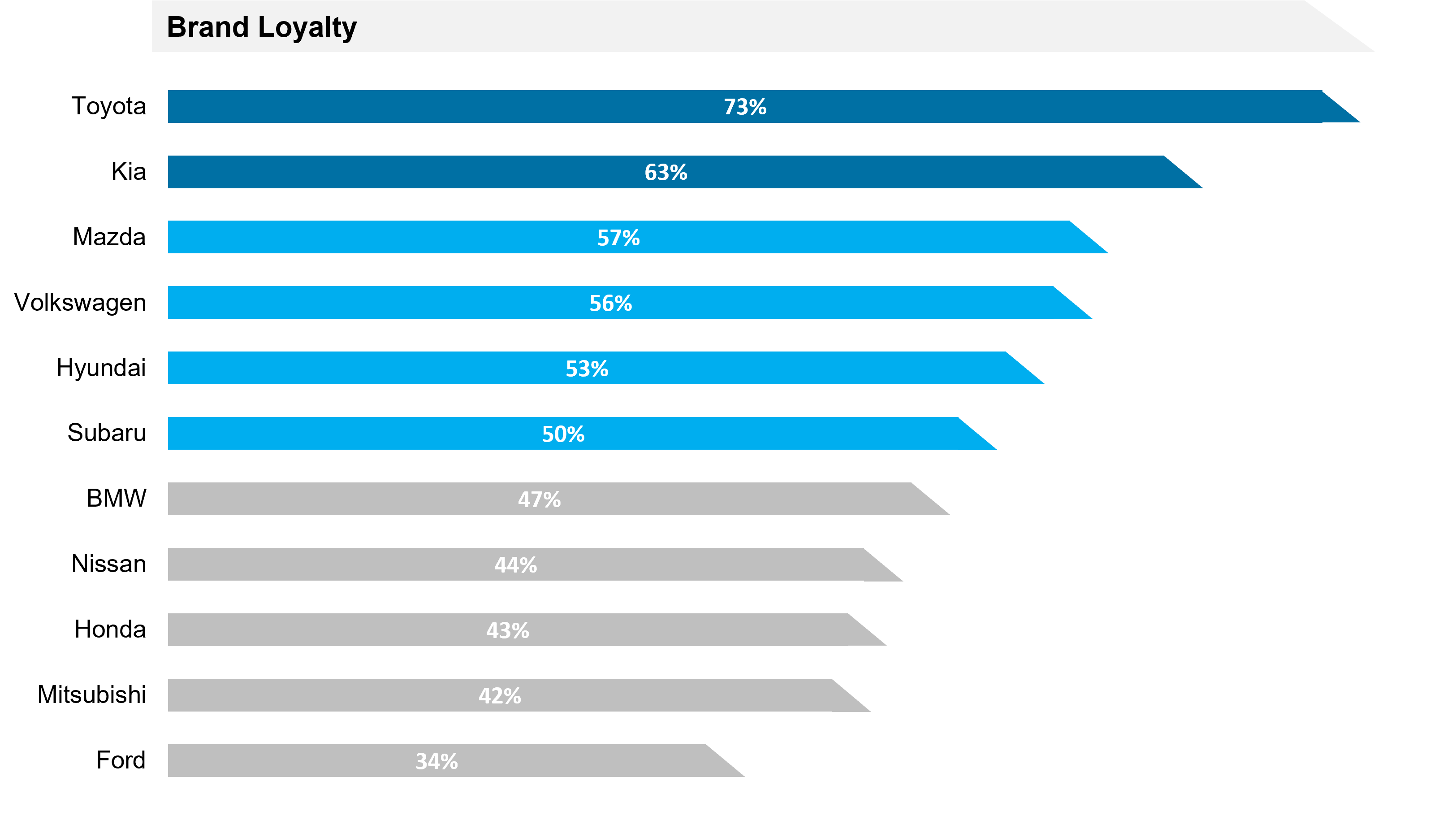 Another question we often get asked is about the transition away from ICE vehicles to lower or zero emission alternatives. Pooling YTD data for consumers, we can start drawing some conclusions on the basis of the types of vehicle they would consider for their next purchase:
Petrol owners: Most likely to consider petrol, but also considering hybrid vehicles as a viable alternative. Less than a third expect to have an EV in their consideration set!
Diesel owners: Majority plan to stick with diesel, likely because their preferred vehicle is not yet available in any alternative form. Those that would look elsewhere appear open to a range of alternatives, so we could see an accelerating shift from diesel to lower emission alternatives in the years ahead
Hybrid owners: They've taken an initial step, and they're not looking back. Their next vehicle will either be hybrid or electric.
EV owners: The most interesting of the lot, with almost half saying they would not consider an EV for their next vehicle. Petrol is seen as the next best option, suggesting that they are not yet willing to fully transition their household to electric, but instead feel that one of each is a safer strategy in the short to medium term.
car loyalty – Likelihood To Consider Power Trains By Current Main Vehicle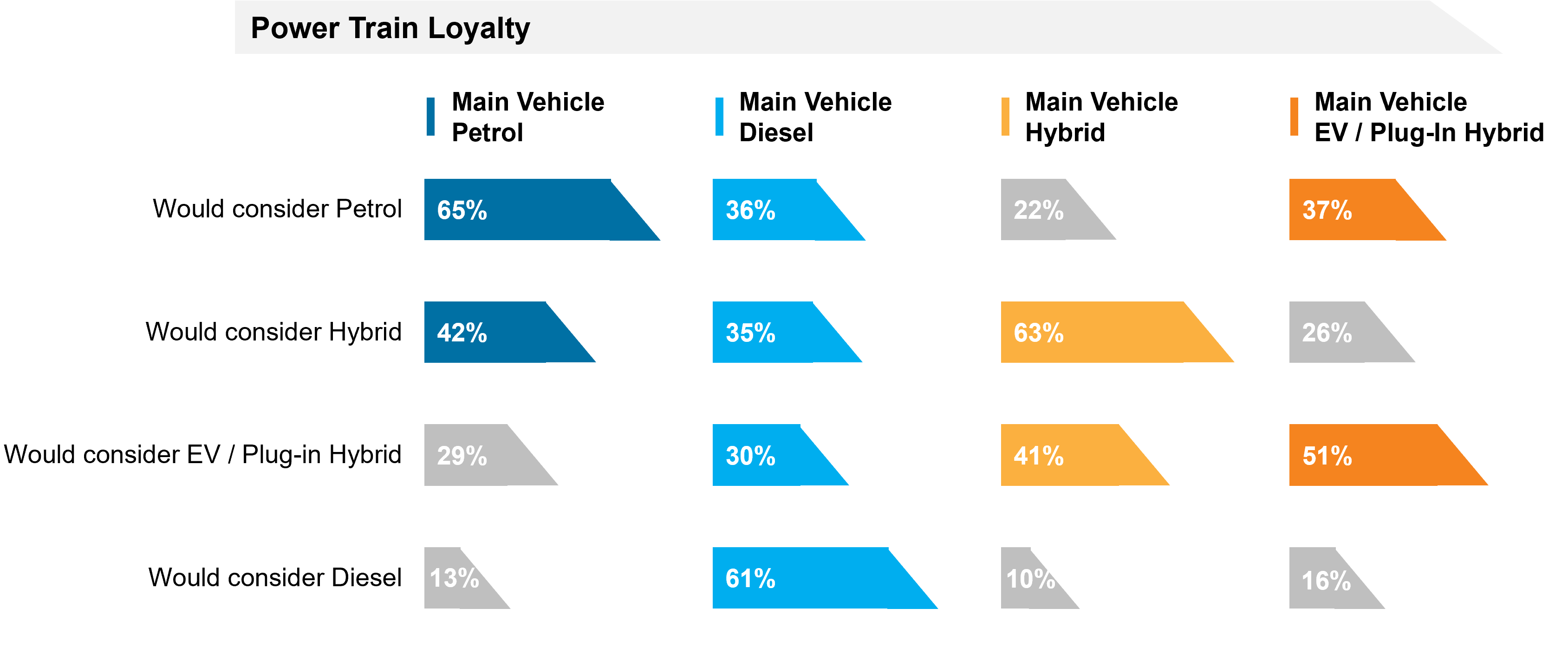 To add further complexity, we need to remember that this is all based on the situation today. As of August, almost one in three Australians (30%) report delaying a vehicle purchase until their economic situation improves. Given this and the current pace of change, when they come to purchase, they're likely to enter a market that looks substantially different to the one they'd encounter today.
If you've enjoyed this piece, keep an eye out for our regular updates on the Australian automotive industry.
Also remember that our consumer tracking research runs monthly, so feel free to get in touch if you've got questions that you'd like answer.