Author: Ben Selwyn | Posted On: 30 Jan 2023
Australian Heavy Commercial vehicle sales are booming, with a record result in 2022 of almost 50,000 new trucks and buses sold. This eclipsed 2021 by more than 4,000 vehicles (up from 43,321 to 47,359), demonstrating the continuing demand for extra capacity.
Despite the increasing competitiveness of this market, two brands remain the clear leaders in their respective segments: Isuzu in light and medium duty, and Kenworth in heavy duty. We can however see a number of significant changes under the surface, continuing the post-pandemic evolution in the market.
Following are four key trends defining the market in 2022 and beyond.
1. Light Duty Becoming A One-Horse Race (For Now)
This segment has benefited from increased demand for last-mile delivery services through (and off the back of ) the pandemic, with sales increasing by more than 40% over the past two years. While the YoY change is limited, over the past five years Light Duty has gone from 46% to 52% of total Heavy Commercial Vehicle sales.
Despite this change, Isuzu retains almost a third of the segment volume, with 7,660 N-Series sales out of a total of 24,533 total units (up 37% YoY). Isuzu's strength is particularly impressive given the category expansion, with brands like LDV achieving strong growth off the back of a strong vans portfolio (the LDV Delivery 9 took second spot in 2022 with 2,966 sales, just ahead of the Fuso Canter with 2,901).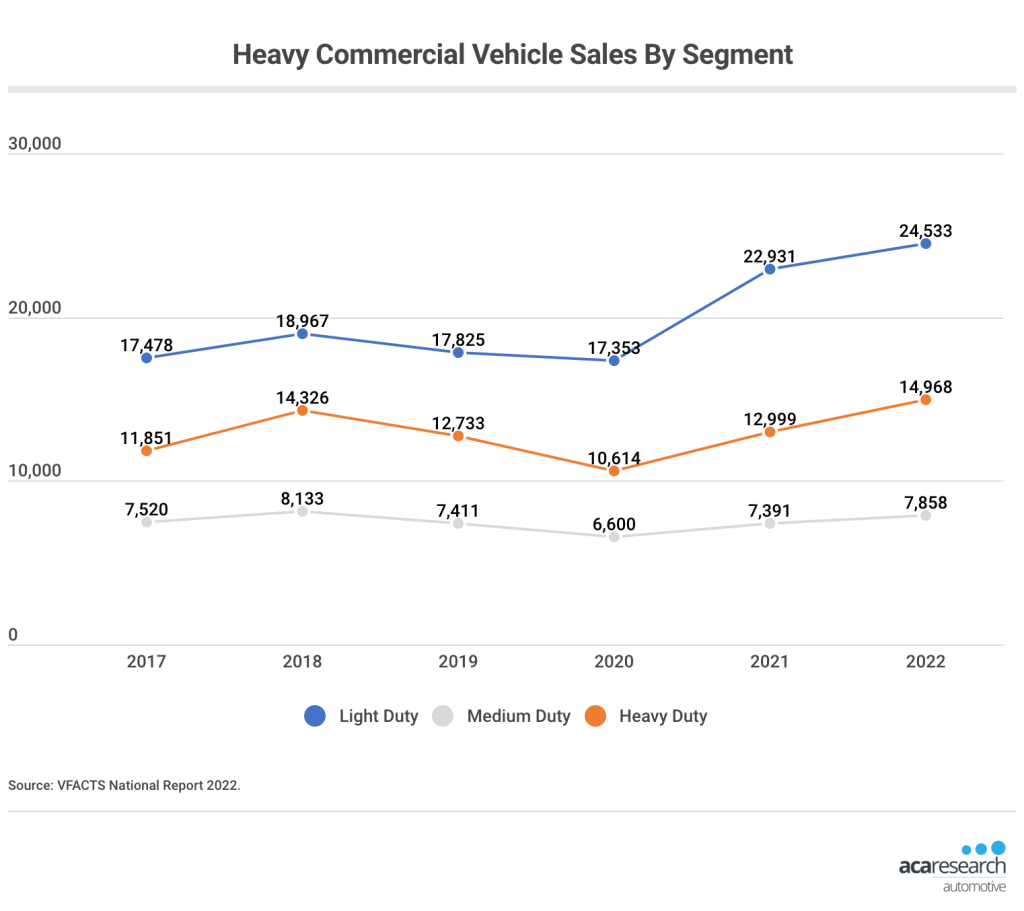 2. The Demise Of Medium Duty Trucks?
The Isuzu N-Series (3,641 sales) holds a clear lead over Hino (2,295 sales) in Medium Duty, with Isuzu again capturing approaching half of this smaller segment. The broader story here though is the relative decline of this category, with its growth in recent years well behind what we're seeing for both Medium and Heavy Duty (and a reversal of the trend we saw back in 2019). In fact, the 7,858 vehicles sold in 2022 is 275 less than were sold in 2018, against an increase of 5,566 for Light Duty and 642 for Heavy Duty.
The simple explanation here is that in an environment where supply of trucks (and drivers) is constrained, fleets would rather run a smaller number of Heavy Duty trucks on longer haul routes, and then leverage the growing Light Duty fleet for the last-mile component.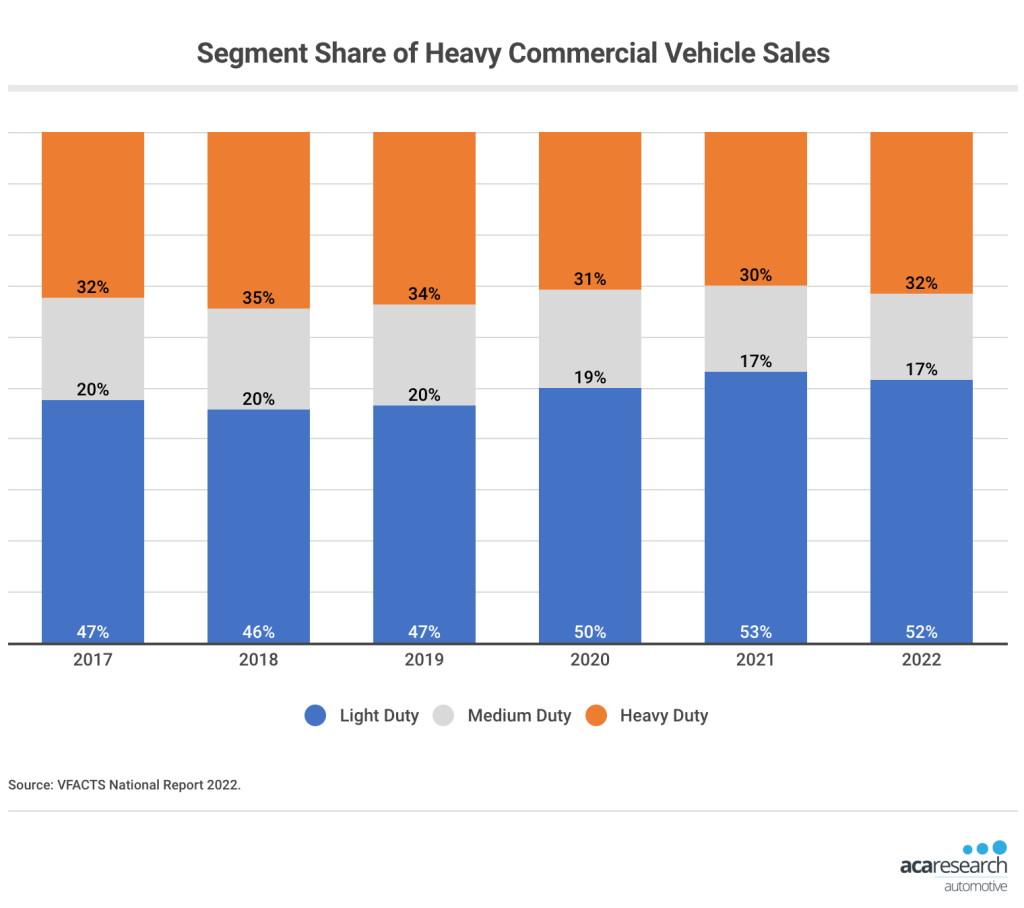 3. Heavy Competition At The Top End
There is significant demand for Heavy Duty trucks, with just under 15,000 sales in 2022 (up from 11,851 in 2017). Kenworth leads this space with sales of 3,003 units in 2022, along with another 656 from its PACCAR stablemate, DAF. It is however facing strong competition, with Volvo just 464 units behind, and five brands again exceeding 1,000 units sold in 2022 (UD joined this list in 2022, replacing Mercedes, which fell back to 814 sales for the year).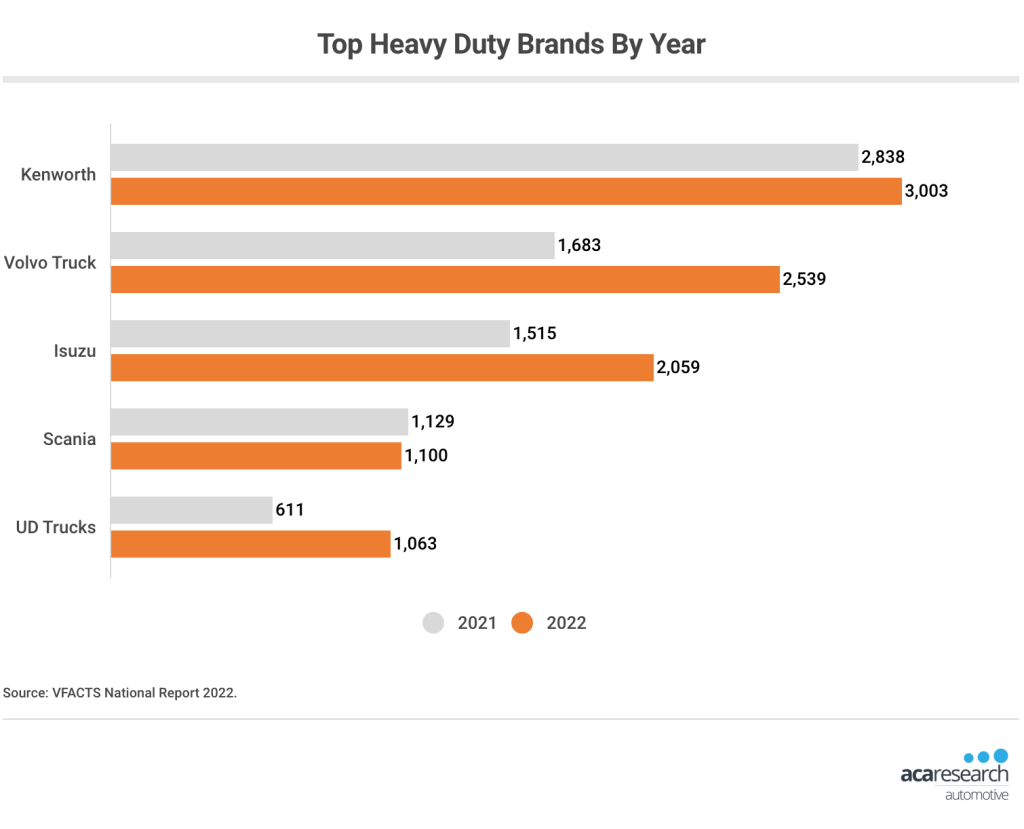 4. Driving Down Emissions
This issue will play a key role in the years ahead. While one key aspect is the transition to zero emission vehicles, the broader question is how fleets can generally reduce vehicle emissions (in the context of Australia's relatively old and inefficient truck fleet).
Given Australia is a challenging environment for both electric and hydrogen trucks, the next few years will see them more as 'trial' vehicles than viable large-scale replacements. Given this, a more significant benefit can be achieved today by replacing existing trucks with more fuel-efficient alternatives (e.g. Euro 6), in line with upcoming emissions standards.
Looking ahead to 2023, we're unlikely to see a significant level of change in the market, with many OEMs already holding a full year (or more) of forward orders. The focus over this period will be delivery to existing clients, and investment in research and planning to prepare for a low and zero emission future.
For more information about our automotive research, you can browse our automotive blog, reach out to our automotive experts, or access our latest automotive research reports.