Author: Charlie Ellis | Posted On: 17 Aug 2023
July new vehicle sales continued the healthy recovery from persistent supply chain issues, with a 15% year-on-year increase. The 96,859 vehicles sold sets an all-time record for the month, which is certainly welcomed after the obstacles that have faced the industry in recent times.
top takeaways
New high for July with 96,859 vehicles sold – July 2023 has broken the previous record set in 2017 by 4%. While this is down on the June number, that's in line with expectations, with June sales always boosted by end of financial year activity
Tesla continues steady success – Despite Toyota's return to form at the top of the table, Tesla (3,934 sales, up 999%), Ford (7,109 sales, up 60%) and MG (5,347 sales, up 77%) have seen the largest YoY improvement in sales
SUVs driving growth – SUV sales make up the bulk of the YoY change, with 12,299 more sold than in July 2022
Electric & Hybrid continue to surge – Unsurprisingly, electric and hybrid vehicle sales have remained strong, with the likes of the Tesla Model Y, BYD Atto3, and MG ZS leading the pack
Consumers start strong in FY24 – It's positive for private buyers, recording the third highest sales figure in the past 12 months, and setting the scene for a strong FY24
Toyota returns to form
Toyota regained lost ground in July, with 19,191 vehicles sold giving it just under 20% of the market, compared to second place Mazda with 8,307 sales. The Japanese giant can thank strong results from the RAV4, Corolla, and Prado for this, with the new entrant Corolla Cross also helping offset weaker Hilux sales (down 1,064 units vs. July 2022).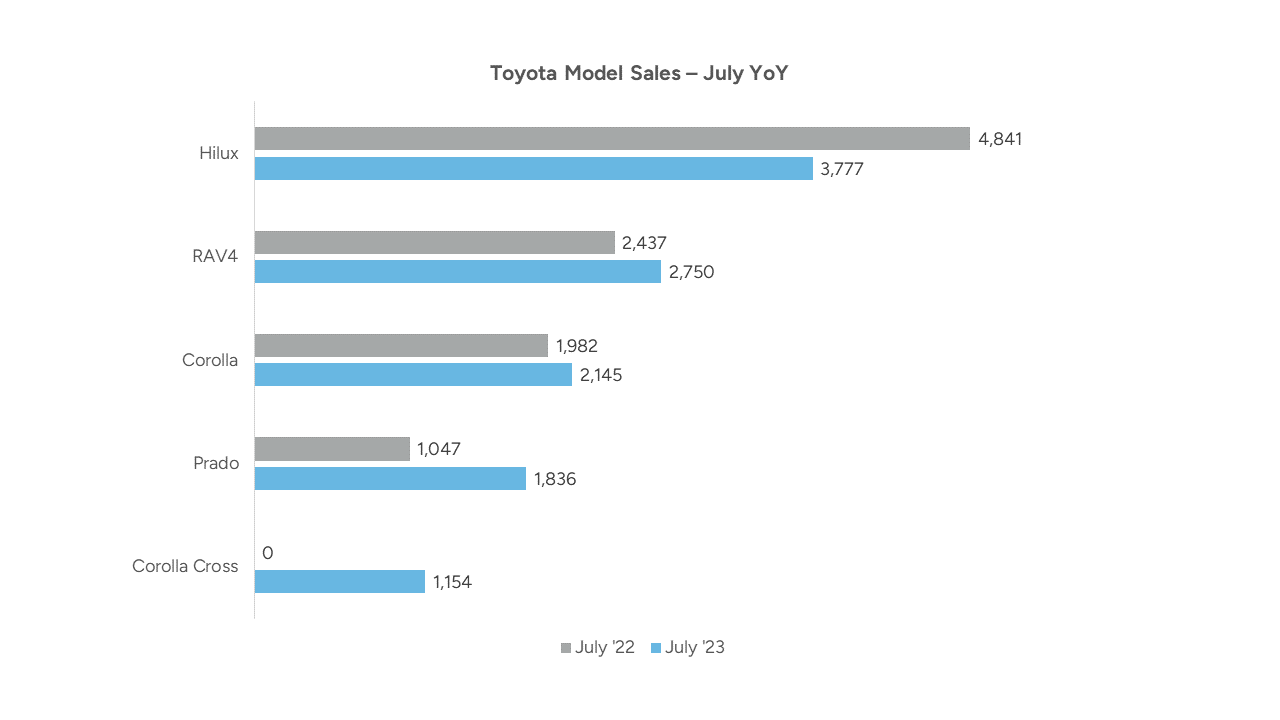 SUVs drive growth
July 2023 has set new records, and much of that is down to Australia's love for SUVs with this category making up more than half the vehicles sold. We are seeing some emerging trends within the category too though, with 85% of the growth this month coming in small to medium SUVs. This talks to the financial pressure facing purchasers, with small SUVs largely reflecting more affordable vehicles and reflecting a strong but price sensitive market. It's evident that while Aussies continue to crave the SUV driving experience, some manufacturers are effectively delivering this at a compelling price point.
made in China trending up
Chinese-made vehicles are again above 15,000 units for the month, holding steady with the current trend (and well up on previous years). This is no doubt concerning to the traditional automotive manufacturing powerhouses in Japan, Thailand and particularly Korea (which has now been overtaken by China).
The impressive growth is being driven by vehicles from a range of Chinese and international OEMs, with MG (owned by SAIC) gaining increasing share, and Tesla's Gigafactory in Shanghai a key source of vehicles for the Australian market. BYD and GWM are both also gaining share, while other Chinese manufacturers are considering market entry – this trend is likely to continue.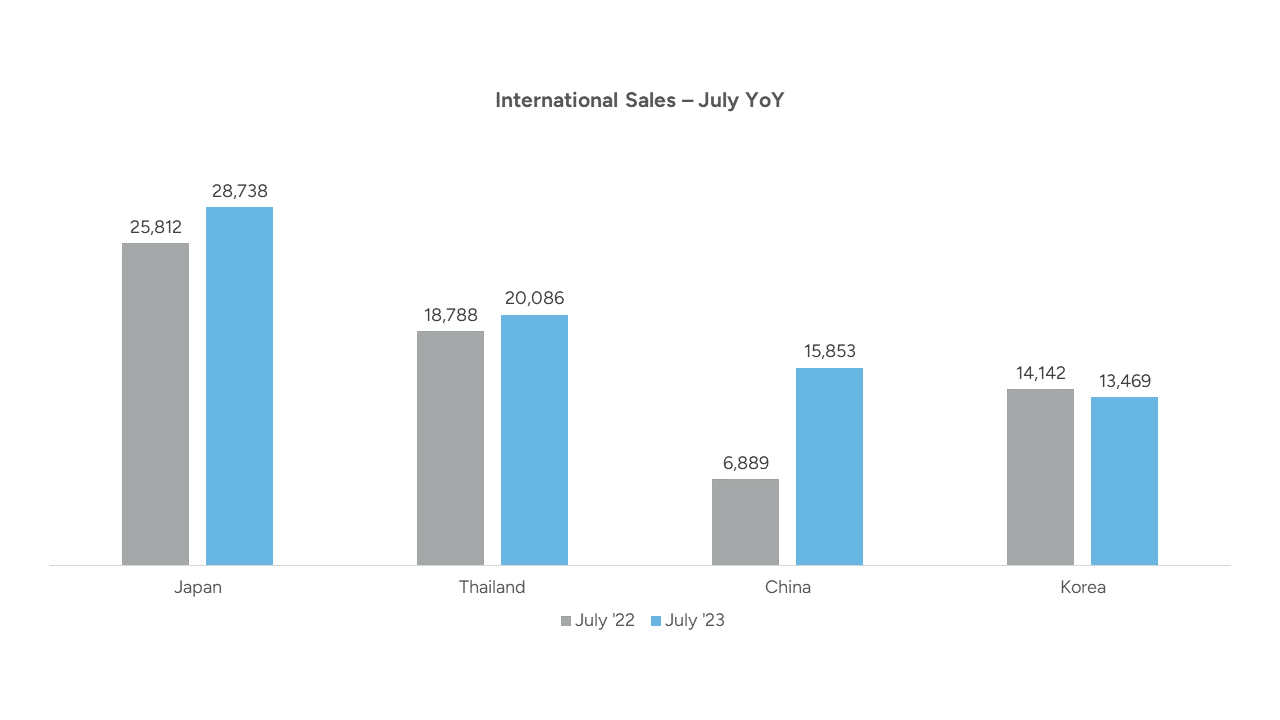 what's next
One positive month doesn't make a summer. Toyota appears to have overcome some supply chain issues to regain lost ground, but can it maintain this going forward? Alongside this, what response will we see from the emerging brands haggling for market share. Tesla continues to make gains in Australia, but will these vehicles at more premium price points continue to thrive, or will price sensitive consumers feel the pinch and opt for cheaper alternatives such as MG and BYD?
Plenty to watch in coming months… don't go away!
For more information about our automotive research, you can browse our insights page, reach out to our experts, or access our latest automotive research reports.