Author: Nick Rassool | Posted On: 07 Sep 2023
The new vehicle sales recovery continued in August, again setting a new record following July's outstanding result. In fact, the 109,996 vehicles sold in August is the eighth highest month on record, indicating that supply chain issues are being overcome.
Can this trend continue though, and what else are we seeing in the sales data this month?
top takeaways
A new high for August – 109,996 vehicles sold, up 12% on the previous record set in 2017
Strong showing by Ford – Toyota may be dominating market share, but Ford (particularly Ranger) had a very strong month (up 35% vs. Aug 2022), building on an impressive YTD performance (up 37% vs. 2022), and winning the higher-margin 4X4 category.
Hybrid overtakes EV – Despite astonishing EV sales (56,922 units, up 292% YTD vs. 2022), Hybrids (59,593) are back in front in terms of total units sold. Being sneaky, we could however class PHEVs as EVs, sliding them back in front (62,401 sales).
Tesla out of top 10 – Despite strong EV sales, Tesla fell back slightly in August (-3% decline vs. August 2022), meaning the manufacturer fell out of the top 10 to rank 12th for the month.
Japanese imports on the rise – YTD sales might be down (-3.5%), but Toyota's recovery drove strong sales of Japanese vehicles in August with 35,945 units sold (up 23% on Aug 2022).
Toyota continues to battle back
Toyota continued its battle back following a weaker first half of the year, regaining lost market share with over 20% of sales in August. The Hilux pipped the Ford Ranger for best-selling vehicle overall (by just two vehicles; 5,762 vs. 5,760), whilst the RAV4 took the title of best-selling SUV in August (3,317 sales), closely followed by the Isuzu Ute D-Max (3,281 sales) and MG ZS (3,193 sales). Honourable mention to the Corolla, with its strong hybrid offering also paying dividends as it took 6th spot overall with 2,808 sales.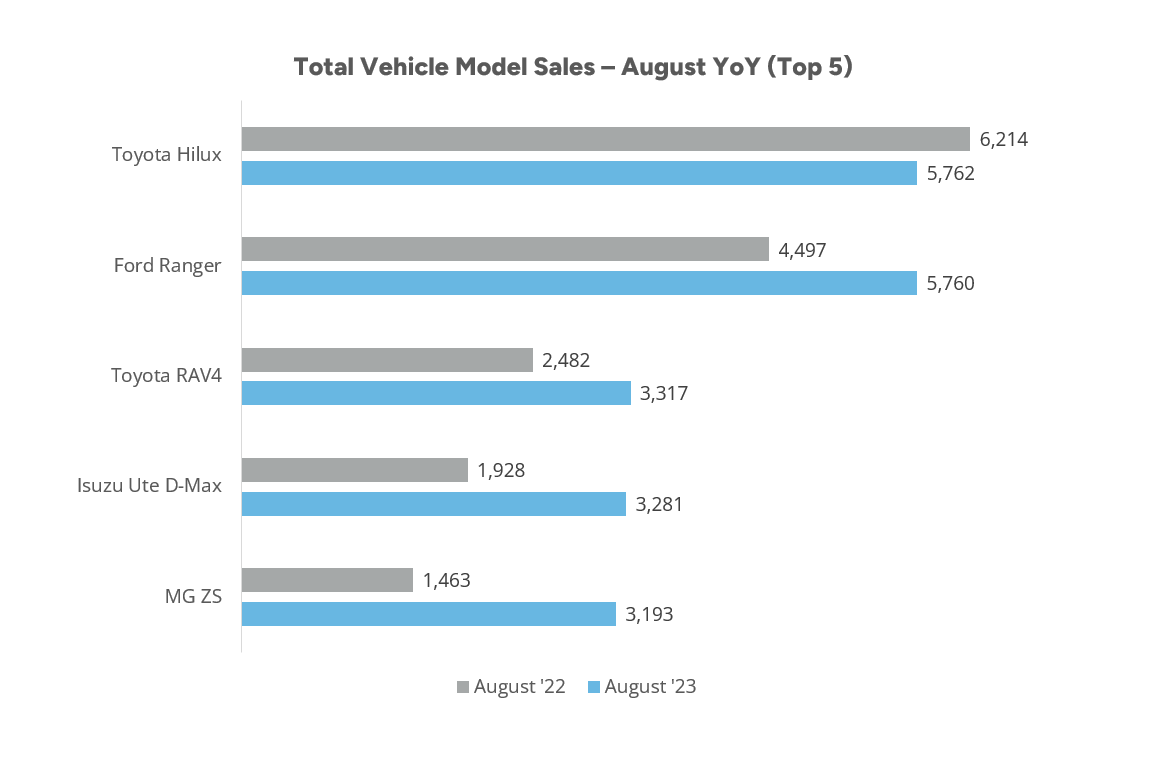 EVs and Hybrids growing in popularity
The noise around electric vehicles isn't going anywhere, but we're seeing a shift back to hybrids off the back of Toyota's increased sales. Overall hybrid sales are on the rise, up 69% vs. 2022. So, whilst petrol and diesel vehicles aren't going anywhere anytime soon, the number of Australians embracing lower emission alternatives keeps growing.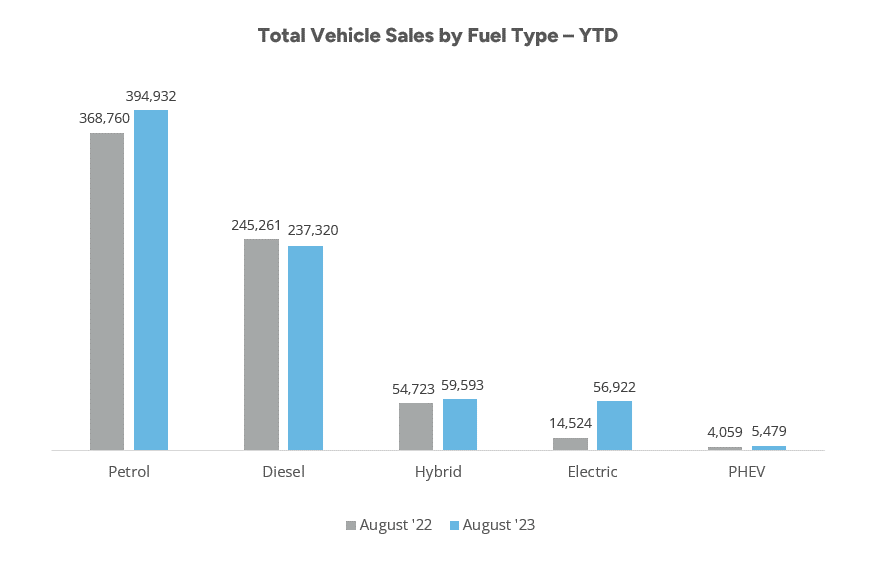 battle of the luxury brands
A close fought battle between BMW and Mercedes-Benz resulted in the former pipping its competitor by a mere 128 units (2,272 vs. 2,144). Despite the excitement, the overall picture is less positive for these two behemoths, with BMW and Mercedes Benz sales down 5% and 10% respectively vs. last August. This suggests that even consumers operating at the top end of the market may be reassessing their choices amid growing financial pressures and rising interest rates.
It's not however all doom and gloom at the luxury end of the market; Lexus grew sales by a staggering 253% in August compared to this time last year, with an overall growth of 102% in 2023 so far, whilst Audi's year to date performance is also strong, up 32% vs. last year.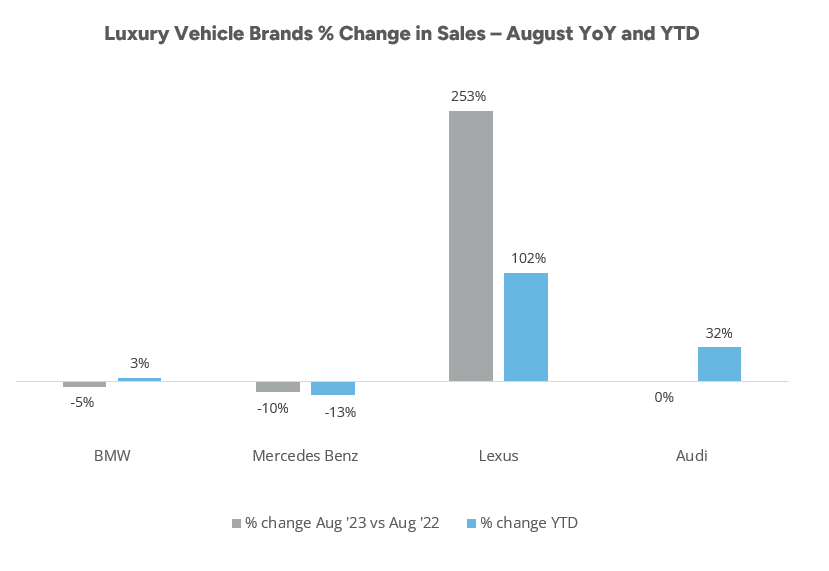 what's next
The data over the past couple of months suggests that Toyota's supply chain issues may finally be coming to end, but the manufacturer still has a challenge on its hands to make up lost ground from earlier in the year, particularly in light of the challenging macro-economic situation in the country.
In the same vein, it will be interesting to see how sales of EVs and top-end luxury brands play out over coming months. We've already seen a move away from the likes of BMW and Mercedes Benz, so will consumers shift away from more expensive electric vehicles as cheaper alternatives start to enter the Australian market?
Tune in next month to see how it all plays out!
For more information about our automotive research, you can browse our insights page, reach out to our experts, or access our latest automotive research reports.