Author: Brad Ripps | Posted On: 09 Oct 2023
Another great month for dealers in Australia, with 110,702 new vehicles sales recorded. This sets a record for September, putting us in a great position to finish the calendar year strongly, and potentially set a new vehicle sales record, or even break the 1.2m barrier.
The calendar year sales record currently sits at 1,189,116 units, set in 2017. After the first 3 quarters of this year, we have seen 899,286 units sold, putting us 289,830 behind, or ~97,000 per month through the final quarter.
Historic trends tell us that Q4 sales typically contribute around 25% of total volumes, which would see us breaking the record, but finishing the year just shy of 1.2m.
This does however rely on continued strong vehicle supply, and a range of other factors, meaning the question remains… will 2023 set a new record?
top takeaways
Hilux on top: – Toyota sold 5,776 Hilux utes, again winning the month. Ford Ranger (5,429) and Tesla Model Y (3,811) round out the top 3
SUV growth continues: 29% growth vs. September 2022, pushing share up 5%
EVs taking share: Electric sales up 20%, with overall share strong at 8% (although more than 10% of passenger and SUV sales)
Petrol losing share: Petrol share down YoY (51% to 48%) – this is despite sales going by up 5,001 petrol units
Tesla troubles? Despite the Model Y ranking 3rd, and the brand being up 171% YTD, this month was down 13% on September 2022
country of origin
Country of origin has remained largely static in recent years, with Japan, Thailand and Korea producing the bulk of the vehicles sold into the Australian market. This year is no different at the top, with Japan producing 251,157 (or 28%) of the vehicles sold, but we have seen disruption further down with Chinese manufacturers outperforming Korean ones (and all other markets) to sit in 3rd.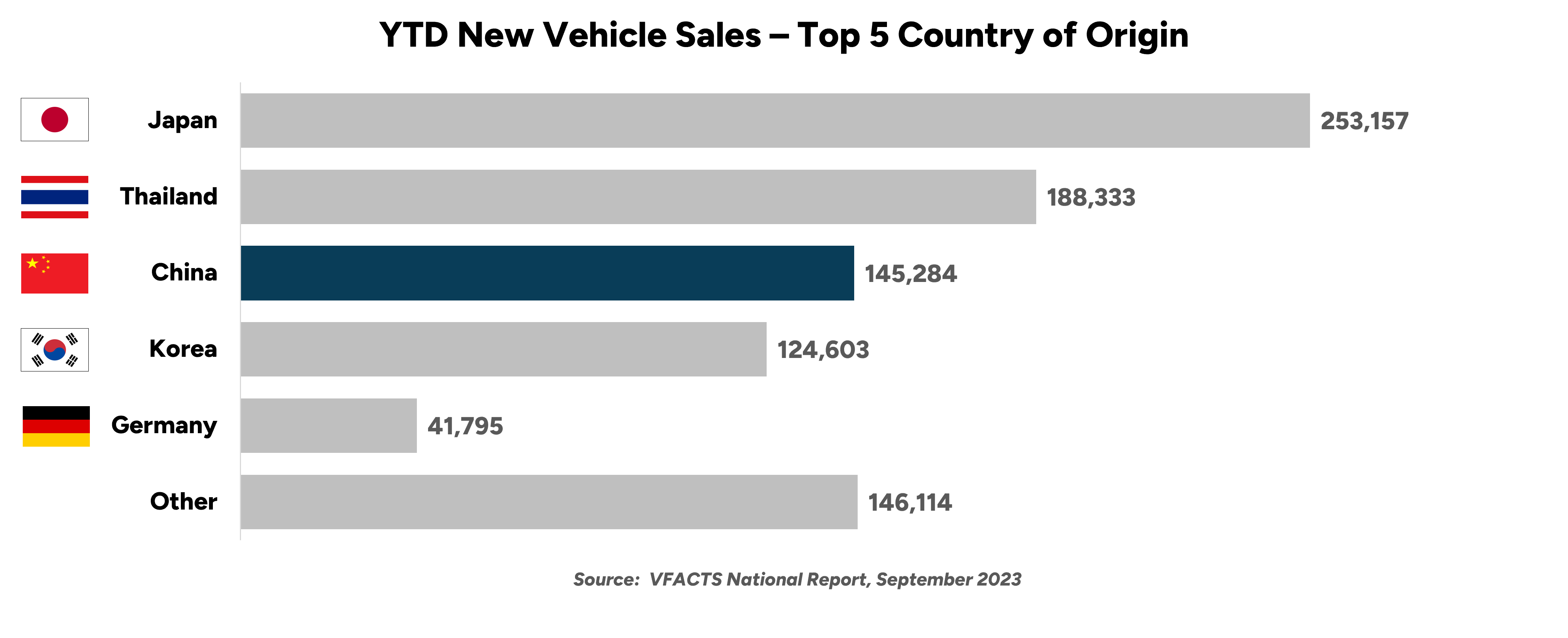 how far can China climb?
Comparing year on year performance, only two markets have achieved strong growth in import volumes this year – China and Germany.
Sales of Chinese-made vehicles are up more than 75% from 2022, while German vehicles are up more than 25%. While this has been achieved through vastly different strategies, both reflect the changing nature of the Australian automotive landscape
Looking at the Chinese market, LDV and GWM have seen strong growth off the back of sharp pricing on their light commercial options (up 55% and 30% respectively), while brands such as MG and BYD have been successfully offering early adopters cheaper EV options. Let's also not forget that the Tesla vehicles coming into Australia are produced in their Chinese plant.
German vehicles are at the other end of the market, targeting affluent consumers looking for luxury vehicles. Working from a lower base, they are successfully leveraging the shift to SUVs. Volkswagen has taken full advantage here, increasing sales by over 80% this year (or almost 10,000 extra vehicles sold vs. the first three quarters of 2022).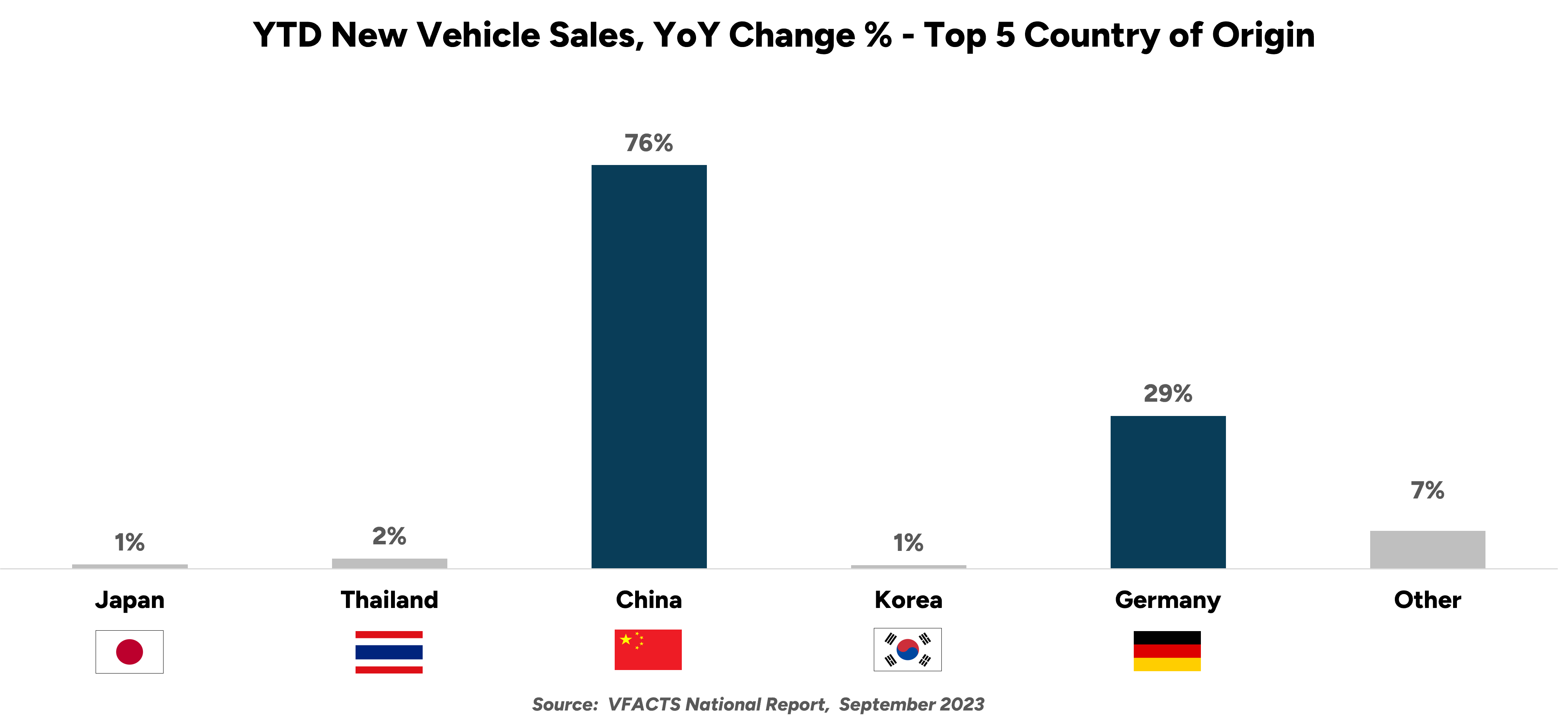 what's next
Consumers trends around EVs and SUVs will continue, so it will be great to watch how the country of origin mix shifts off the back of this. More Chinese brands are planning to enter the Australian market, so look for them to continue to grow share, particularly as lower and zero emission light commercial alternatives start to come available.
I'm not sure they can rival Japan in the short term, but they could potentially catch Thailand next year.
One to watch!
For more information about our automotive research, you can browse our insights page, reach out to our experts, or access our latest automotive research reports.