Author: Matthew Beatty | Posted On: 05 Oct 2023
'Tis the season to spend! Despite the cost-of-living crisis dominating headlines throughout the year, Christmas cheer and gift giving fever is inspiring Aussies to dig deep into their pockets and treat their family and friends. This results in an expected $10.5 billion in spending on Christmas gifts according to the September edition of the Fifth Quadrant Consumer Insights Study.
The Naughty and Nice List
Australians expect to spend $10.5 billion on Christmas gifts this year, with an average spend of $578 per person
Gen Z is ramping up Xmas spending, with 26% planning to spend more on Christmas gifts this year than 12 months ago (despite increasing cost of living pressure)
Responsible spending is the goal, with two thirds (67%) of Australians setting a budget for their Christmas spending
It's not that easy to achieve in practice, with almost half (44%) of Australians expecting to get carried away and end up spending more than they meant to
Australians expect to spend $3.4B on the Boxing day and New Year sales this year, with an average spend of $186 per person
Boomers Top the List For Generous Giving
The cost-of-living crisis is plaguing our news feeds, with more than two thirds (71%) of Australians believing it will only get worse over the next 12 months. Despite this, consumers are still willing to spend to ensure a merry Christmas.
Gen Z is leading the way, with more than a quarter (26%) planning to spend more on gifts this year than last year.
Despite this, when it comes to generational spending, Gen X is in the lead with an expected spend of $692 (more than $100 ahead of any other generation). Boomers are at the forefront when it comes to total spend though, with sheer weight of numbers helping them contribute over $3.5B in gift purchases (vs. $3.2B from Gen X).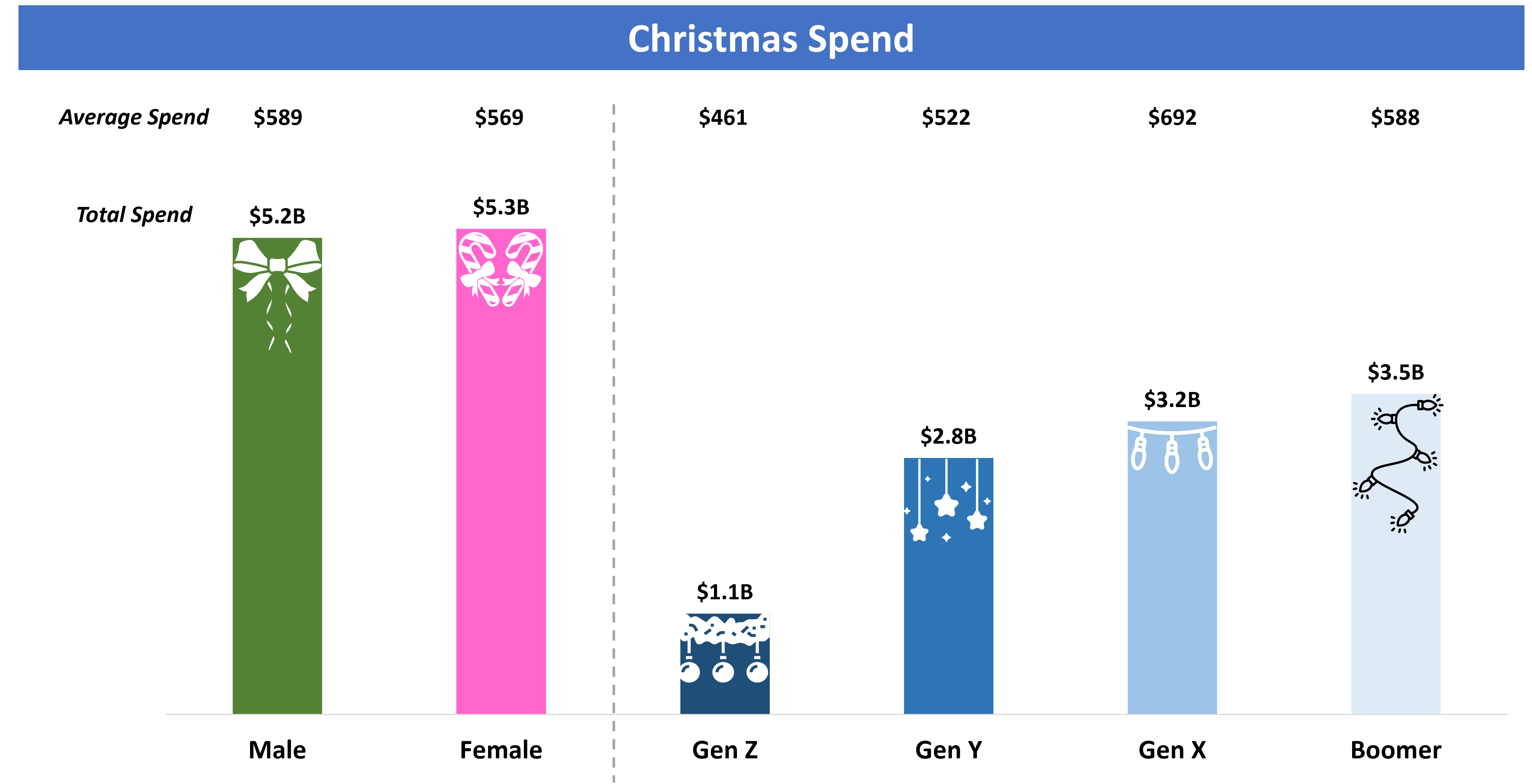 Gen Z Leads On Responsible Spending
We all know how easy it is to get swept up in the excitement of holiday shopping for our loved ones, so Aussies are setting budgets to try and avoid getting carried away in the festive fervor. Gen Z leads the way on responsible spending, with almost three-quarters (73%) setting a budget for Christmas spending.
Unfortunately, despite these prudent efforts, more than two in five (44%) Gen Z still admit to typically going over budget.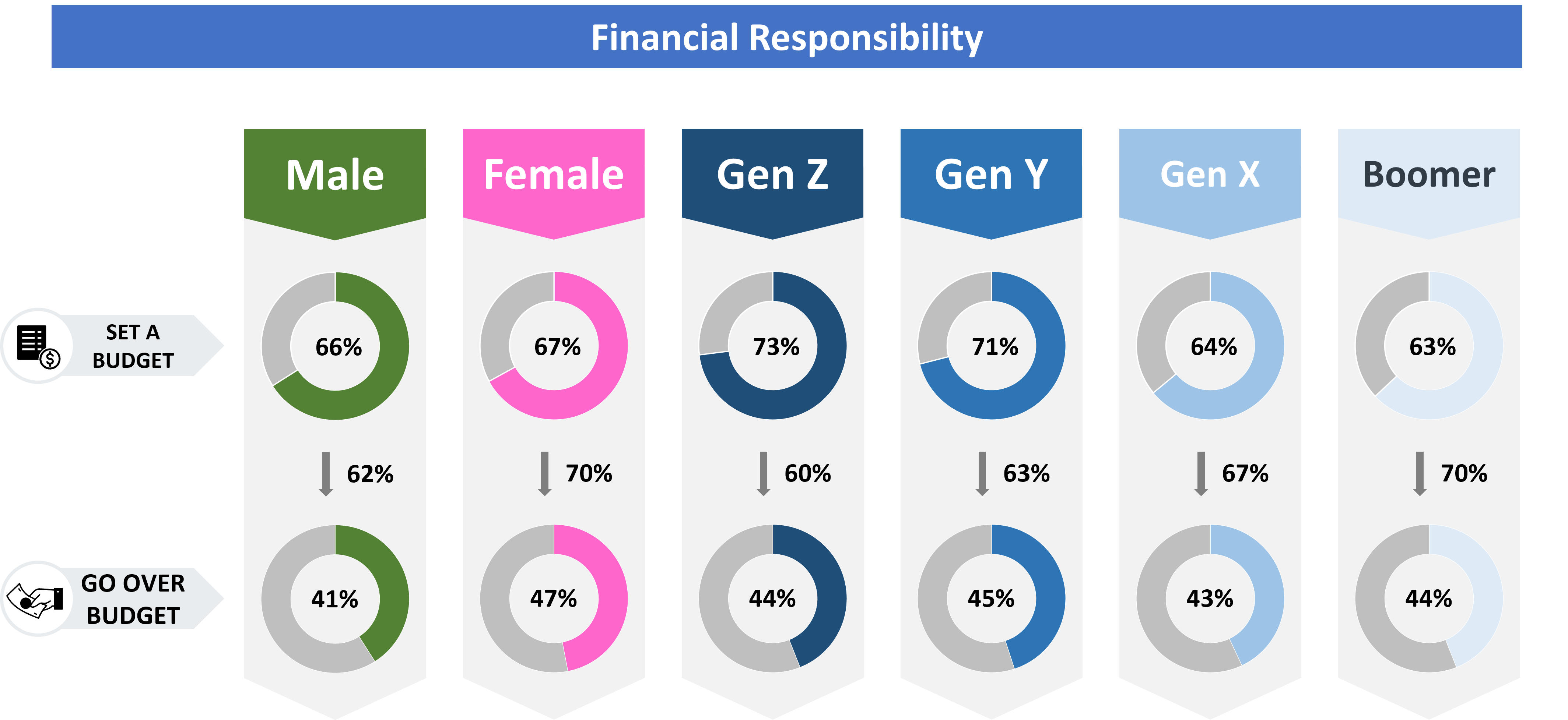 Men Shopping the Sales In 2023
Looking beyond Christmas, around half of Aussies expect to shop the Boxing Day/New Year sales, spending a total of $3.4B. Flipping the script, men ($2B) are leading the way here, comfortably outspending women ($1.4B).
Younger consumers are also much more likely than their older counterparts to be looking for a post-Christmas bargain, with Gen Z at $293 and Gen Y at $273. Overall, this leaves Gen Y leading the way on total spend, expecting to drop $1.4B on discounted products.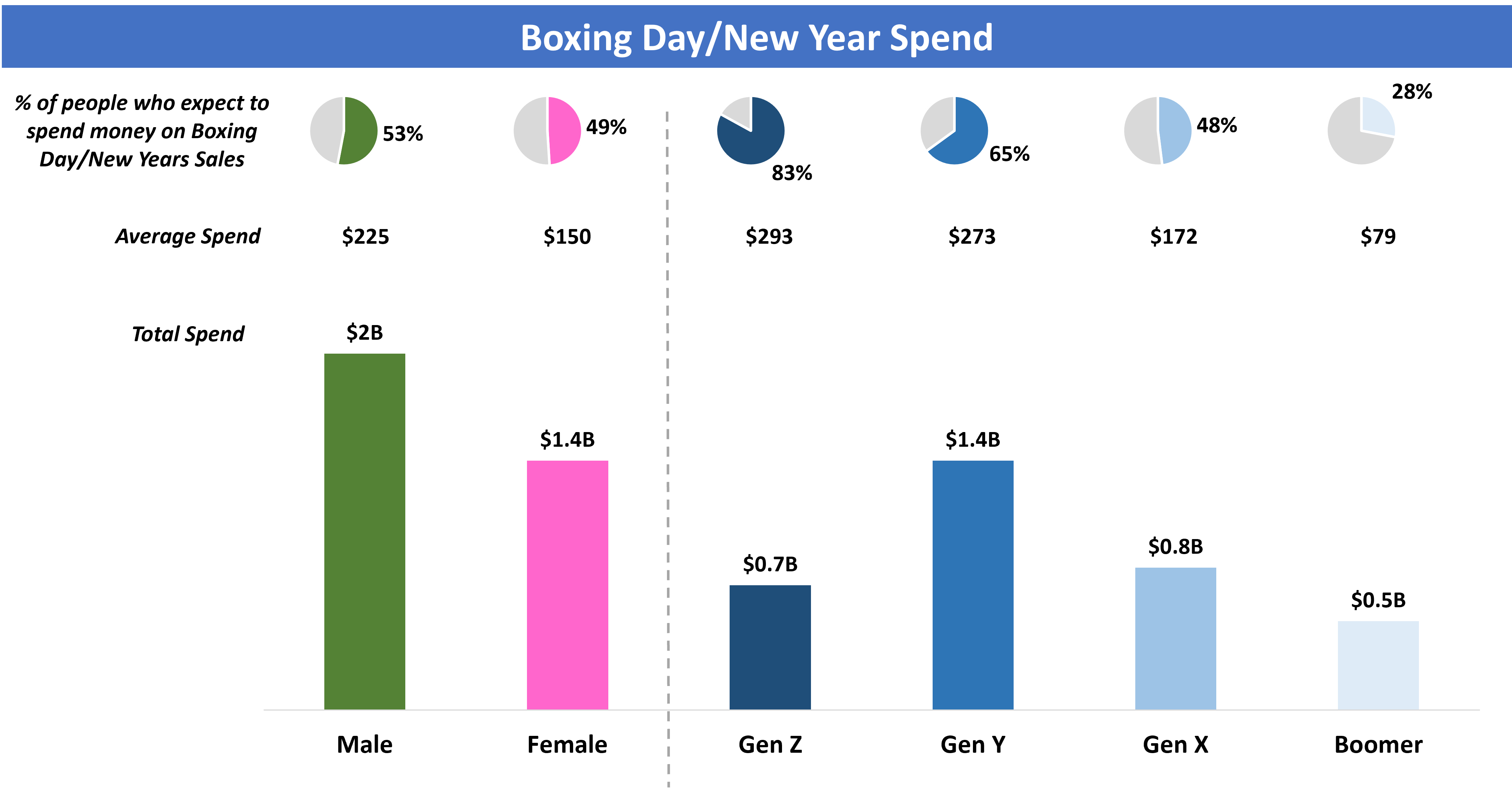 What does this mean?
All in all, it is evident that it will take a lot more than a cost-of-living crisis to dim the spirit of celebration and generosity that defines the holiday season in Australia, with Aussies gearing up to welcome the year's end with open hearts and open wallets.
For retailers, this means starting planning now to ensure they hold stock of popular items, and are ready for increased online and in-store traffic in the lead-up to Christmas.
Fifth Quadrant surveys 1,000 Australians every month as part of our ongoing Consumer Insights Study.
Contact us if you are interested in finding out more, or have questions you'd like answered.