Author: Ben Selwyn | Posted On: 22 Sep 2023
Australian businesses across all sectors are facing significant challenges, with rising costs pressures, and ongoing economic uncertainty driving down consumer and business confidence. While we have seen some slight upticks in recent months, we're still cautious about the path ahead.
Manufacturing and Production is one sector that has been significantly impacted by these issues, with the August edition of the Fifth Quadrant Business Tracking Study identifying rising fuel and utility costs as significant constraints for these businesses. In addition, the escalating cost of finance is exerting additional pressure by restricting their access to capital for renewing equipment or fleet.
Level Of Concern Over Business Issues (% Very Concerned)

Reflecting these concerns, businesses in the manufacturing and production sectors have relatively simple priorities over the next 12 months when it comes to the sustainability initiatives they are prioritising. At the top of the list is a desire to increase energy efficiency, while also looking to reduce their environmental impact through waste management and recycling.
While a number of other initiatives were called out by some businesses in the research (e.g. reducing carbon footprint, reducing vehicle emissions), these most likely sit as secondary elements (or longer term outcomes) of these overarching objectives.
Top Business Sustainability Initiatives Over Next 12 Months (% High Priority)

It's no surprise that recycling programs are top of their list of activities, with almost half having a comprehensive program in place. Looking to the future, this is likely to grow significantly, with many others currently trialling or planning to implement these programs.
We see different patterns however when it comes to usage of renewable energy and smart systems to reduce grid reliance and overall energy consumption. There is already a level of take-up here, but future intentions are more muted, potentially reflecting their more capital-intensive nature.
Looking to the future, growth potential appears more focused on core operational aspects, with around one in five manufacturing and production businesses currently trialling or intending to roll out the following:
Life cycle assessments to evaluate product sustainability
Closed-loop production systems to minimise wastage
Lower emission vehicles, plant or equipment
These businesses appear to be making pragmatic decisions about their short to medium term needs – despite current discussions around zero emissions, most are recognising that their most significant opportunity is to transition to more modern power trains (e.g. Euro 5 or Euro 6), as against leaping to newer technologies that can still be more challenging to validate from a Total Cost of Ownership perspective.
Current and Planned Business Sustainability Activities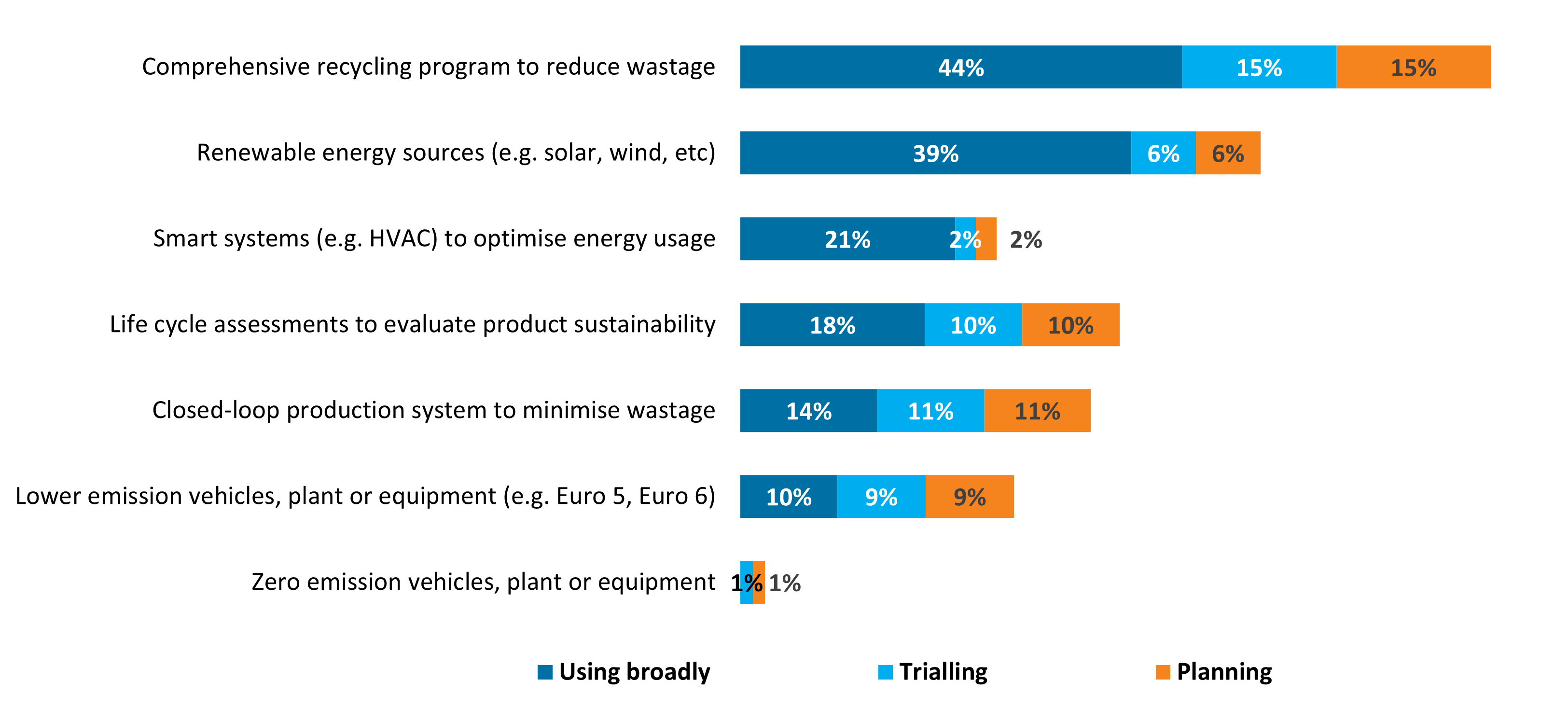 It is not enough however to just put initiatives in place. We also need to measure outcomes, in order to close the loop and recognise success or failure. In this context, it's positive to see the majority of manufacturing and production businesses having success metrics in place (with one in two using multiple metrics in their evaluation process). While cost is often a significant focus here, it isn't always the lead metric, or in some cases included at all. Around one in four businesses have adopted this approach, selecting metrics other than cost to focus on.
Sustainability Initiative Success Metrics (% Measuring)

It is clear that while businesses in the manufacturing sector are facing more challenging economic conditions, they still see environmental responsibility as both a core focus, and a means of addressing some of the challenges they face. Indications are that this will lead to continued investment in more environmentally friendly processes and equipment over the short to medium term, but that these will need to clearly deliver to core business needs (i.e. means of production).
If you've enjoyed this piece, keep an eye out for our deep dives into other industry sectors in coming months.
Also remember that our business tracking research runs monthly, so feel free to get in touch if you've got questions that you'd like answer.