Author: James Organ | Posted On: 08 Sep 2023
Updates to this research are published monthly. View previous wave.
The latest wave of the Fifth Quadrant SME Sentiment Tracker suggests confidence is growing in line with falling inflation and the stabilisation of interest rates.
Despite year-on-year revenues continuing to fall, 47% of SMEs reported a profit and 33% expect revenues to increase over the next 4 weeks compared to 22% in the previous month. Decision makers also report less concerns regarding increasing costs and are more confident about local and global economic conditions. Accordingly, the Fifth Quadrant Business Sentiment Index has risen from 87 to 105.
Table 1: business sentiment index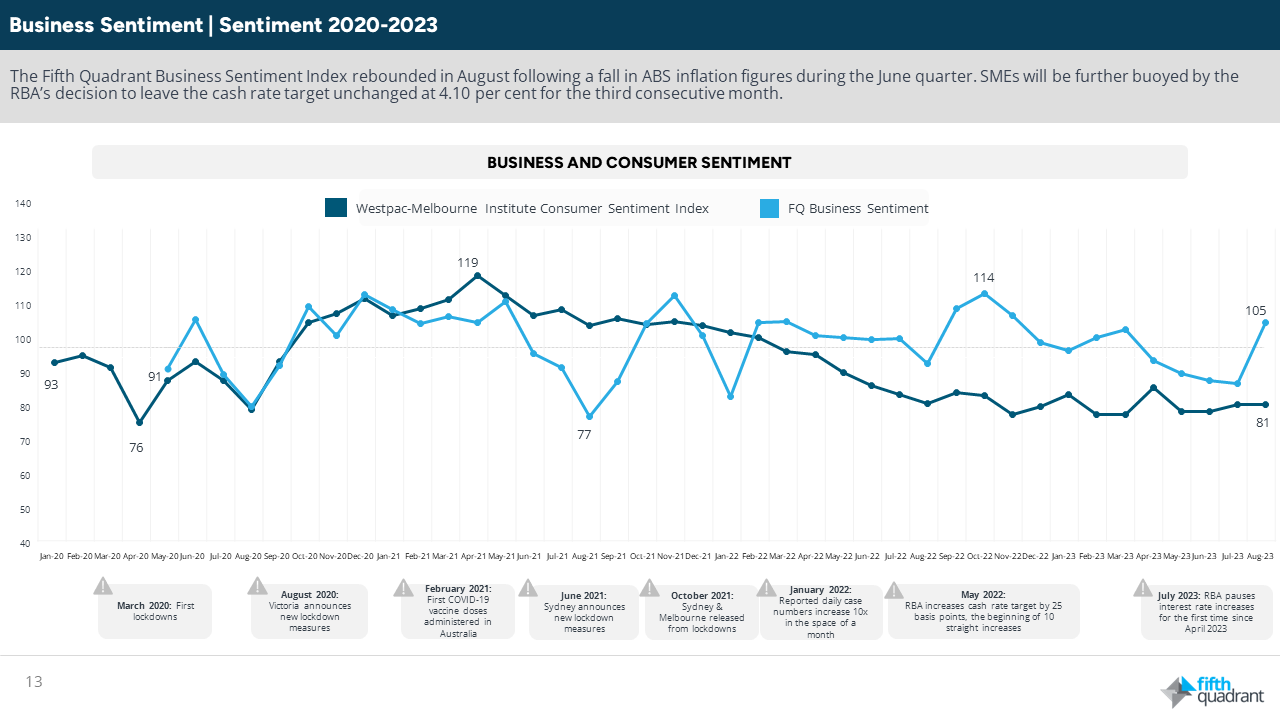 With more certainty regarding interest rates and costs, recruitment activity has again increased. One in four (24%) are currently looking to fill roles compared to only 19% in July. The data suggests a more bullish outlook for SMEs as we approach the important Christmas trading period and hence 37% of all SMEs are now focusing on growth over the next 12 months. This is the highest level reported since October 2022.
Table 2: growth expectations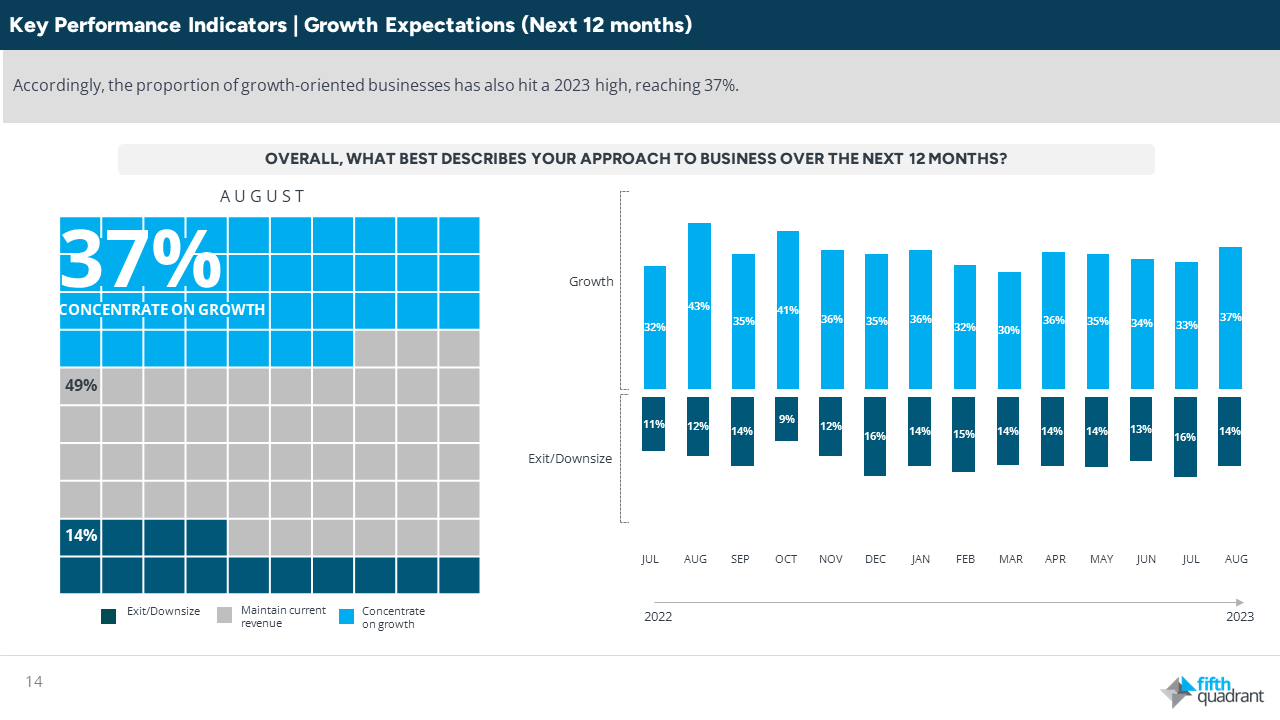 It is also positive to report an uplift in capital expenditure with 30% of SMEs increasing investment over the next 3 months. It is also notable that only 9% of SMEs expect to have difficulties meeting loan repayments over the next 6 months, down from 16% in July.
Table 3: loan stress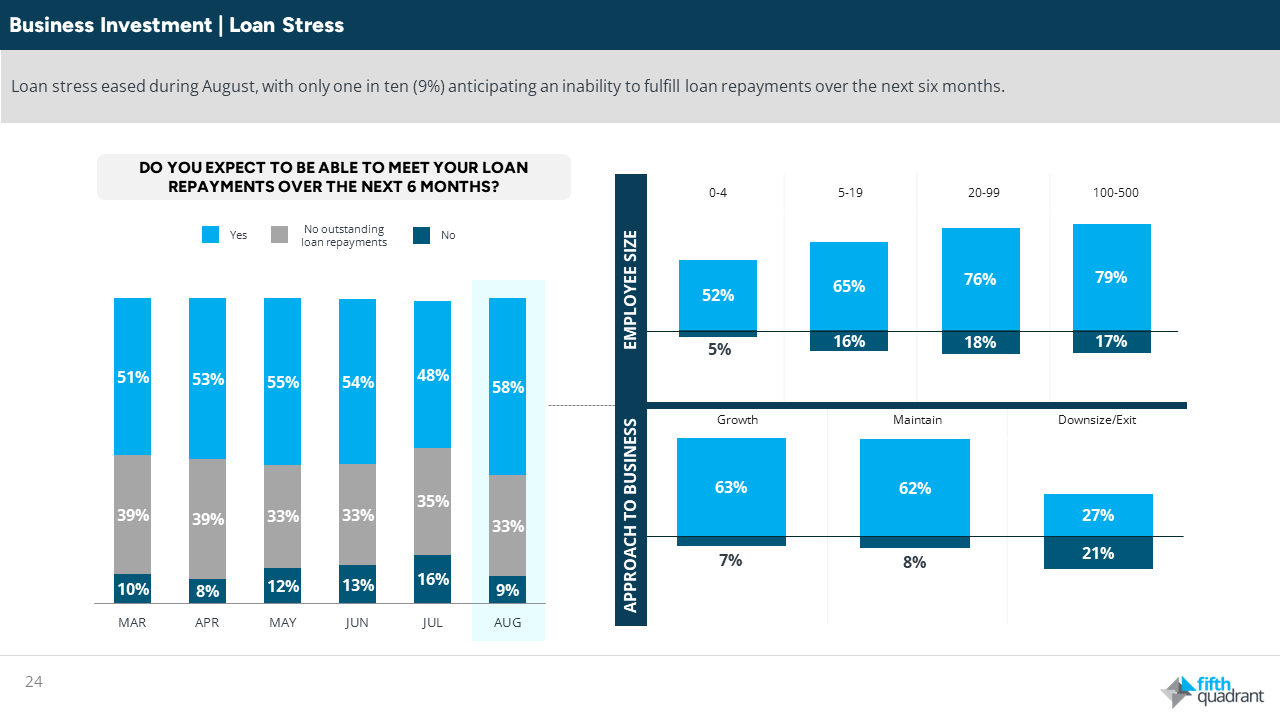 In summary, despite ongoing challenges, the August findings indicate a brighter outlook for SMEs. Confidence is on the rise, and businesses are more optimistic now than they were earlier in the year. Growth initiatives are back on the agenda with recruitment and capital investment bouncing back as we approach the final quarter of another very challenging year. Only time will tell, but hopefully this is a turning point for SMEs
Please click on this link to access the full report including subgroup analysis by industry sector, size of business and State. Fifth Quadrant and Ovation Research will publish monthly updates of this research.