Author: Ben Selwyn | Posted On: 06 Nov 2023
Record sales of 106,809 new vehicles in October, putting us over 1m vehicles sold in 2023. Continuing this trend would see the Australian market crack 1.2m vehicles in a single calendar year for the first time. While this may be an entirely symbolic threshold, it talks to the improved production and logistical performance by manufacturers as they clear outstanding orders, and reduce vehicle wait times.
One big question though… while manufacturers are likely to keep pushing to the end of the year, can consumer demand hold up in the face of an increasingly challenging economic environment?
top takeaways
Aussies Loving Light Commercials: Utes at the top of the tree in October, taking out the trifecta with the Ford Ranger (6,215 sales) leading the market from Toyota Hilux (5,766 sales) and Isuzu Ute D-Max (3,198 sales).
Toyota Riding High: Despite challenging times in 2023, the Japanese brand has found form, with three of the top five models (Hilux, RAV4, Landcruiser) giving it top spot and 19% of the market this month.
Heavy Commercial Driving Ahead: As of now, 16 of 27 HC brands are up on their 2022 sales numbers, with Volvo (up 974 trucks), LDV (up 869 trucks) and Isuzu (up 621 trucks) leading the growth. As a result, total market is up 11.3%, with 42,835 trucks sold so far this year.
Tesla Troubles Continue? EV sales dropped from 8,821 in September to 6,057 in October (decline of 2,764 units) off the back of Tesla going from 5,177 in Sep to 1,988 in Oct (down 3,189). While Model 3 sales are only marginally down (1,178 sales vs. 1,366 in Sep), Model Y sales dropped off a cliff, going from 3,811 units in Sep to just 810 in Oct.
where to from here?
While this is the first time we've cracked 1m vehicles by October, history can gives us a guide as to what's possible from here. Excluding the COVID- impacted 2019 and 2020 results, almost one in five vehicles are typically sold in the last two months of the year. On this basis, we'd see a hair over 200,000 vehicles sold, for an annual result of 1.206m.
The key unknown here is the number of existing orders being counted in current sales deliveries. At what point do they run their course, and manufacturers need to either accept reduced volumes or start discounting to move stock?
Indications are that we could already be moving in that direction, with new vehicle wait times at an average of 73 days in October, down from 109 just four months ago. In June, six of the top 10 brands still had wait times over 100 days, but now that's down to three (with Ford down from 193 to just 104 days over that period).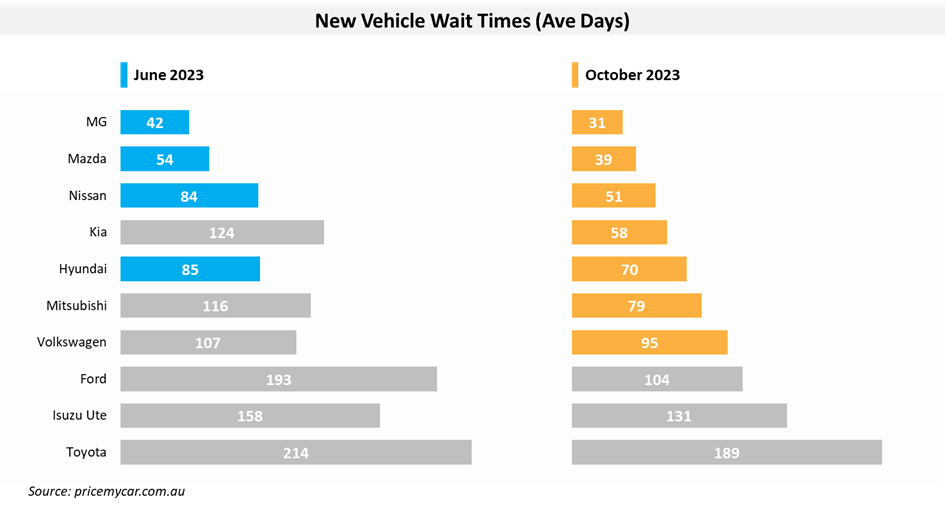 what's next
Supply is improving, but consumer sentiment is now becoming more of a concern again. More rate rises are expected (potentially as early as tomorrow), so we're waiting to see what impact that has on new vehicle sales. With that said, (and regardless of whether we hit 1.2m sales or not), around two thirds of OEMs are ahead of their 2022 sales, so will be feeling comfortable heading into the end of the year.
For more information about our automotive research, you can browse our insights page, reach out to our experts, or access our latest automotive research reports.