Author: James Organ | Posted On: 01 Sep 2023
the critical role of SMEs in Australia's economy
Small and Medium-sized Enterprises (SMEs) serve as the linchpin of Australia's economic fabric, responsible for considerable contributions to job creation, innovation, and economic development. With over 2.5 million SMEs accounting for 97% of all Australian businesses, these enterprises employ 5.1 million people and contribute around $500 billion to the economy (33% of the Australian GDP). Despite these statistics, SMEs are often encumbered by challenges such as restricted capital access, intense market competition, and operational bottlenecks.
current growth sentiment among Australian SMEs
In our Fifth Quadrant SME Monthly Sentiment Tracker, we surveyed business leaders about their anticipated growth over the forthcoming year. An encouraging 36% (930,600 businesses) are targeting growth, displaying an optimistic outlook for the economy. Conversely, 51% intend to maintain their current revenue streams, while 13% are considering downsizing or exiting the market, aligning with recent data from the Australian Bureau of Statistics (ABS).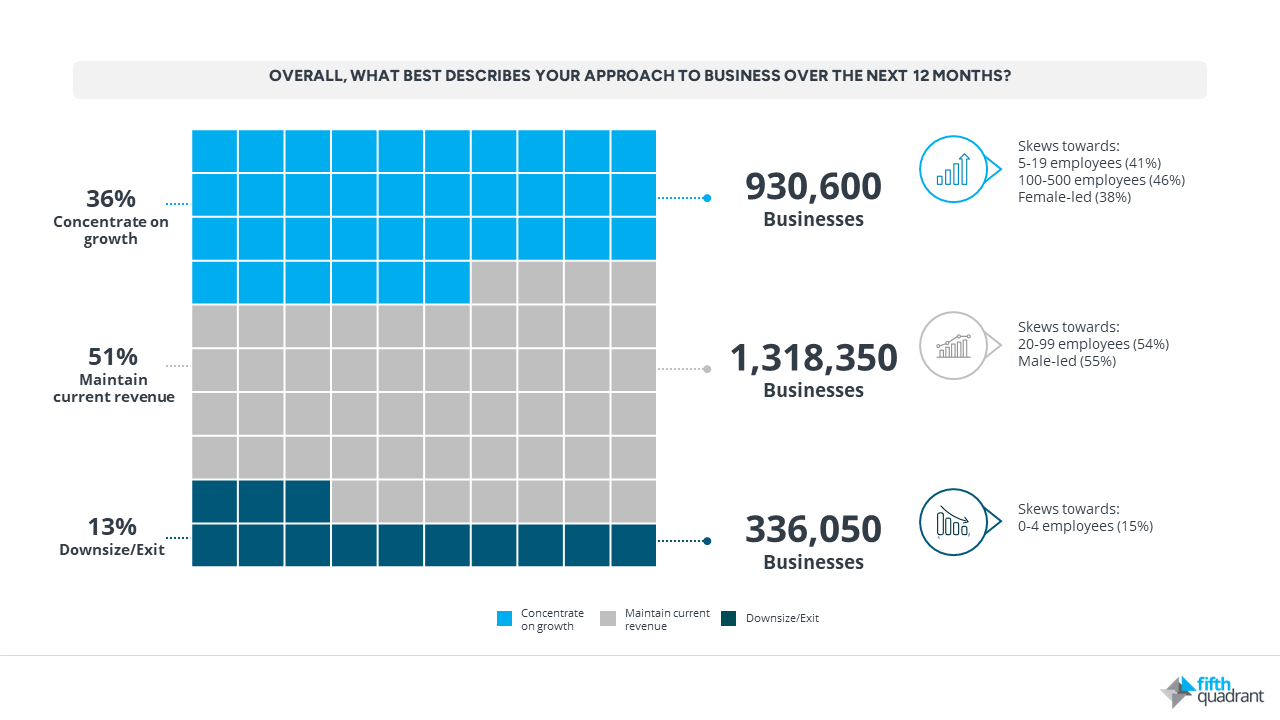 the role of technology in driving business growth
So what sets these growth-oriented businesses apart? Certainly, the approach to technology investment is a key factor.
First and foremost, decision-makers in these enterprises understand that technology is not just an operational need but a strategic asset. They recognise that sustaining a competitive advantage and boosting operational efficiency is increasingly tied to technological adoptions and upgrades.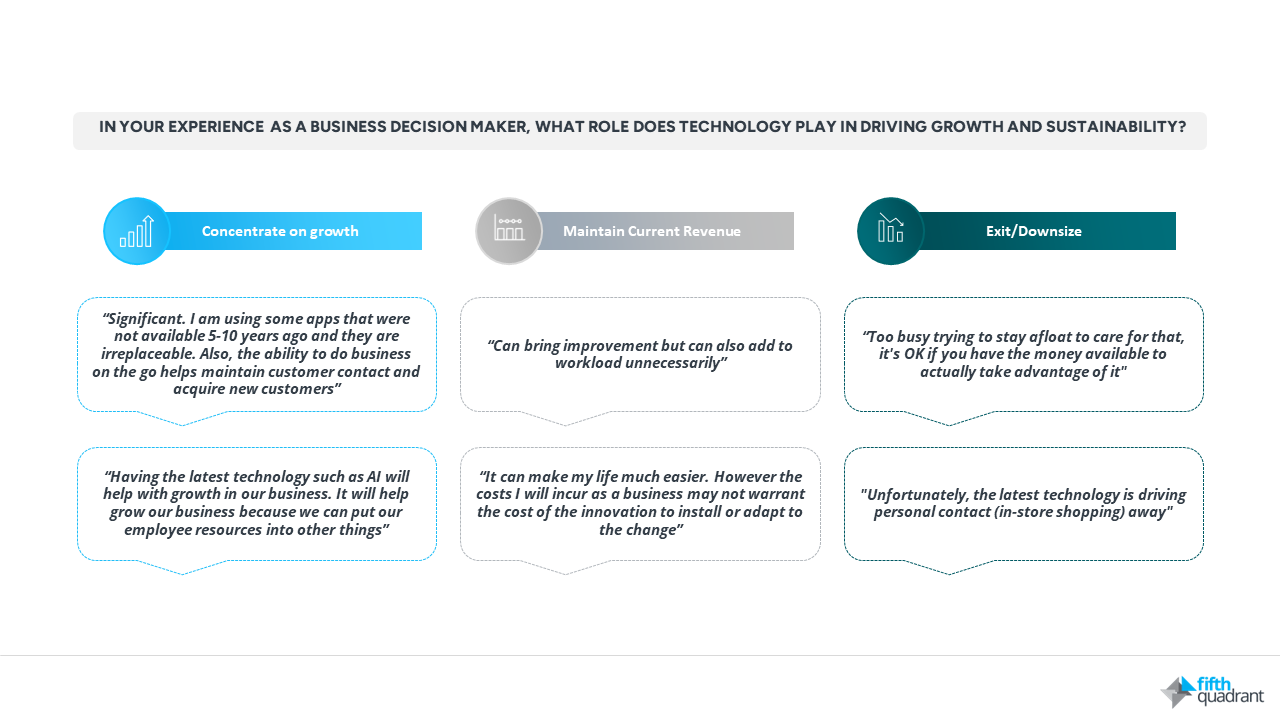 Our survey found that on average, growth-oriented businesses are earmarking funds for investment in specific technologies at a higher rate (2.2 technologies) over the next 12 months than their counterparts who are content with maintaining their current revenues. These technologies include growth tools including sales and marketing platforms (28%), digital commerce solutions (20%), and data management systems (17%). Investments are also robust in productivity, internal communications, and collaboration platforms (18%), reflecting a sustained commitment to innovation and operational excellence.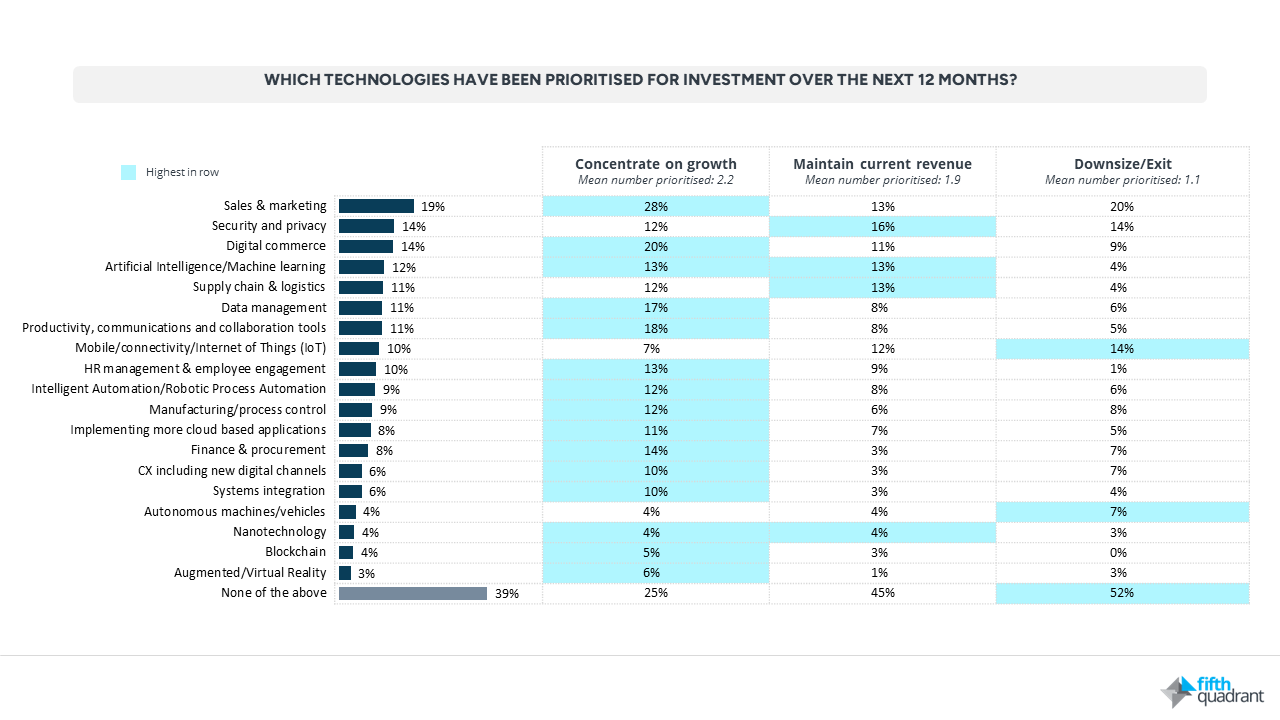 marketing efficiencies in growth-oriented businesses
Corresponding with their appetite for technological investments, growth-oriented SMEs also excel in leveraging various digital marketing channels to generate leads and orders. On average, these businesses utilise 2.5 marketing platforms, with leading platforms including Facebook (47%), Google (34%), LinkedIn (29%) and Instagram (28%). Clearly, this multi-channel approach significantly contributes to their ability to capture and convert market opportunities and ultimately a greater level of consistency and continuity in driving revenue growth.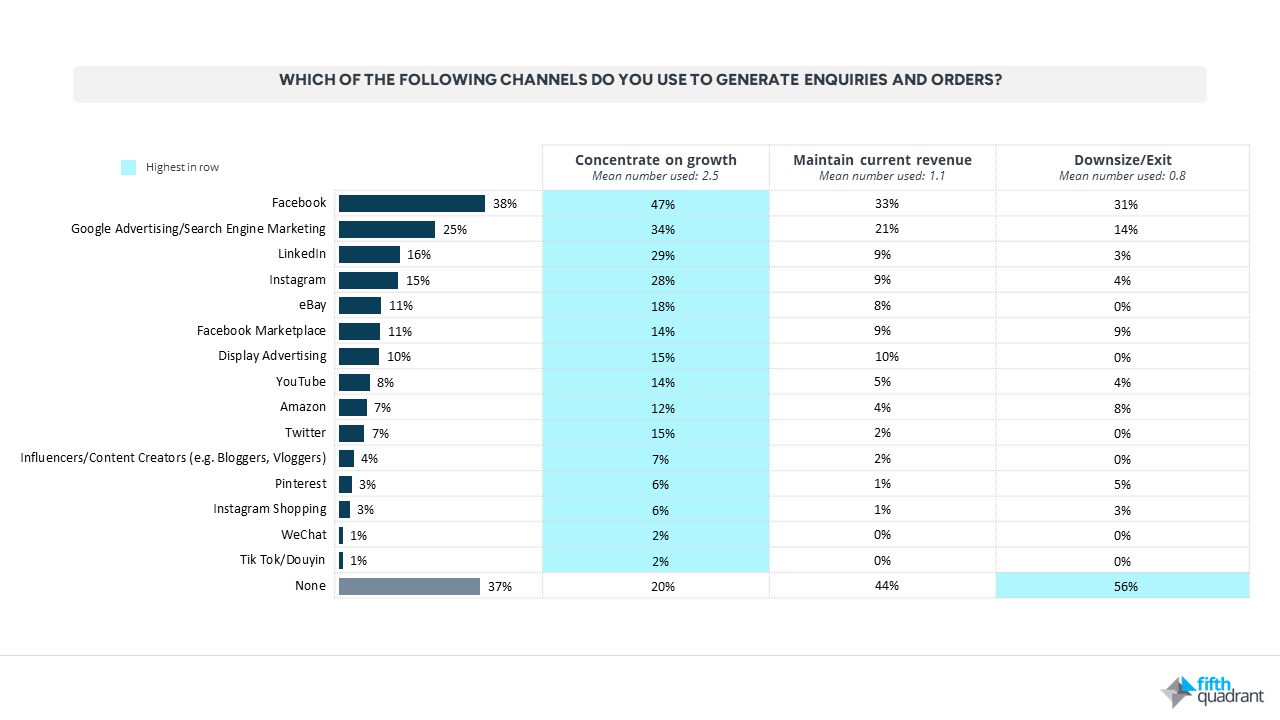 measurable outcomes of technology and marketing Investments
What's the upshot of these investments in technology and marketing? When we dig deeper into the metrics, it's evident that growth-oriented businesses exhibit greater confidence across key performance indicators. This includes both actual (34%) and projected revenue growth (43%) and an increased capability to meet debt repayments (88%).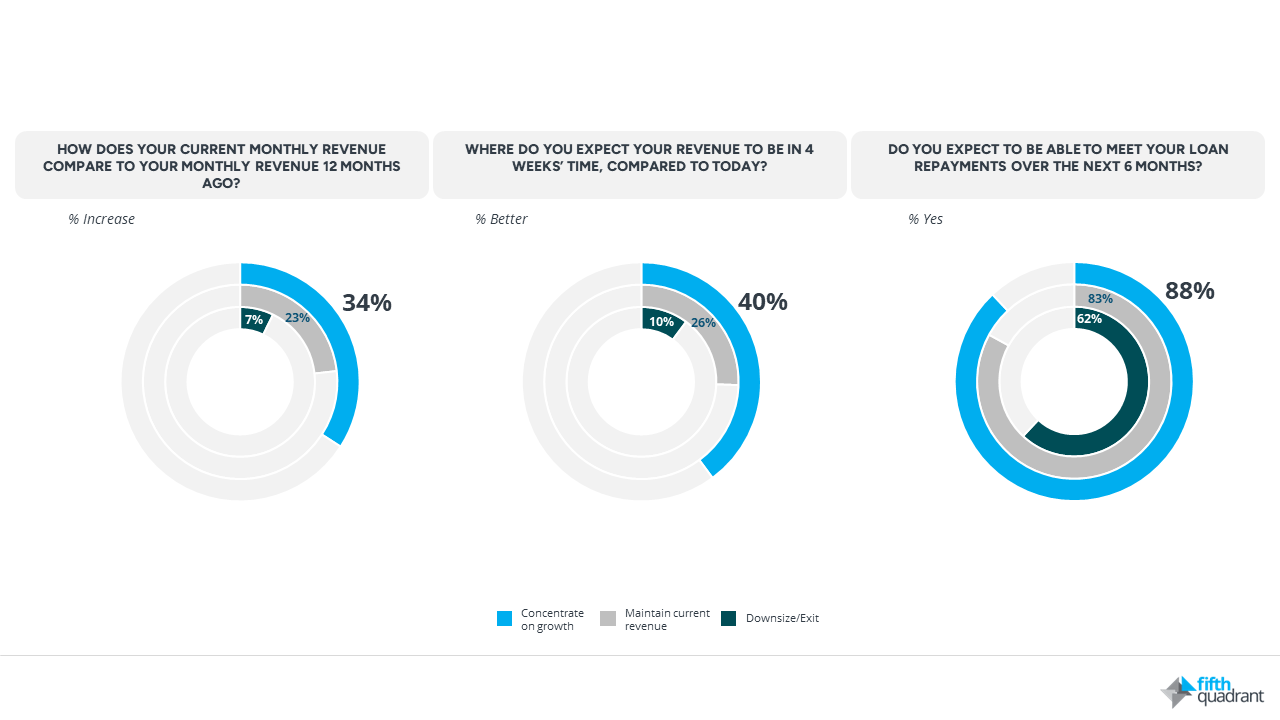 conclusion
For SMEs aspiring to scale, the message is clear: strategic technology investments are not just beneficial but essential. By placing a priority on technology and aligning it closely with other areas like marketing, growth-oriented SMEs set themselves apart in a competitive landscape and position themselves for sustainable expansion. Their forward-thinking strategies offer valuable insights for other SMEs looking to pivot from mere survival to significant growth.
Please click here to dowload the full SME Sentiment Tracker including subgroup analysis by industry sector, size of business and State.